By Emmanuel Agbubi,
As Nigerians celebrate her Diamond Anniversary of Independence, a human rights group known as Civil Rights Council, (CRC), Delta State chapter has taken to the street of Warri protesting the increments of fuel pump price and electricity tariff hike, urging President Muhammadu Buhari to reverse back the price as there is uncommon hardship in the nation.
The group Coordinators, Comrade Agbubi Ejovwoke-Oghene Emmanuel and Comrade Prince Lucky Ibiri, while addressing newsman in Warri, Delta state, described the Federal Government policies to increase fuel pump price and electricity tariff  as an anti-people's interests, administered by masses insensitive leadership.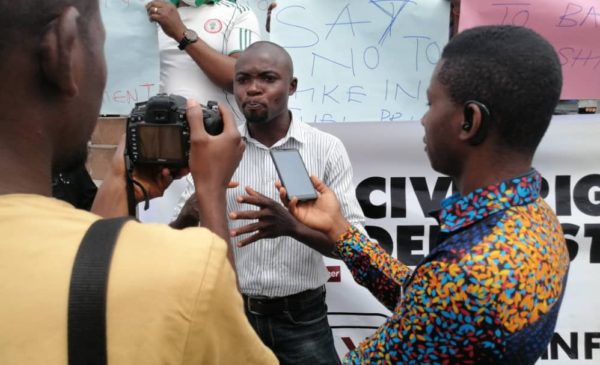 According to Comrade Agbubi Ejovwoke-Oghene Emmanuel, coordinator Ughelli North unit said, "at a time like this when Nigerians are celebrating our nation independence amidst Covid 19 pandemic harsh condition, the insensitive Government of Nigeria adding salt to her citizens injuries is an aberration.
At the advent the global Covid 19 pandemic most private sector workers have not receive salary for the past six months while others got pay cut, how do citizens are adjusting to this new life style ought to be a serious concerns to every reasonable Government with the interests of her citizens at heart rather than enacting an obnoxious policies".
On his part, Comrade Prince Lucky Ibiri, coordinator Warri South unit said, "the Federal Government decision to increase these two essential product and service is no doubt has affected our living conditions negatively as inflation bit harder, prices of commodities and services have skyrocketed. As Nigerians gash their teeth for breathe.
The approval for power distribution companies to increase the tariff is another means of promoting capitalism to the detriment of the masses. So therefore, we are here today to be voice to the voiceless in ensuring citizens well-being is improve for a joyous Independence celebration as a free people".
The group also berated the undemocratic process of the Natural Water Resources Bill pending before the National Assembly as evil and barbaric.