By Victor Bieni
ASABA- Zakat and Sadaqat Foundation led by its CEO/Executive Director, Prince Suleyman Olagunju, Operations Manager, Alhaji Ahmed Ma'aruf, Foundation's State Coordinator, Alhaji (Barr.) Isiaka Ojei has given out cash and items Worth One Million and five hundred thousand naira (N1.5M) to the indigent citizens in Delta State.
This was made known to our reporter yesterday by the Management of the Foundation at the Mosque of Nigerian Police Force Headquarters, Delta State Command, Delta State.
Zakat and Sadaqat Foundation is a registered Nigerian non-governmental Organization with Corporate Affairs Commission in 2006, though started its operations since the year 2000 whose Headquarters is based in Lagos and branches in the 36 States of the Federation.
According to Zakat and Sadaqat Boss, the vision of the organization is to be the foremost and leading Organization Committed to improving the welfare of the less privileged and adding value to stakeholders support, and whose mission is to help the rich to enrich the poor.
The Occasion which was Chaired by the Delta State Hon. Commissioner of Police, Mr. Adeyinka Adeleke, ably represented by DC CIID, Aminu Alhassan other dignitaries which included amongst others: The Controller, Nigerian Immigration Service, Delta State Command, Abrahim Liman, able represented by DSI Abdul Abubakar, SSA to Governor Okowa on Special duties, Alhaji Usman Mukta, the Chief Imam of the Mosque to mention but a few.
Prince Suleyman in an interview with Newsmen stated that annually the Foundation disburses charities among the poor and needy in the society accross the country to return Zakat to its rightful position among Muslims and re-awaken the spirit of social responsibility among Muslims.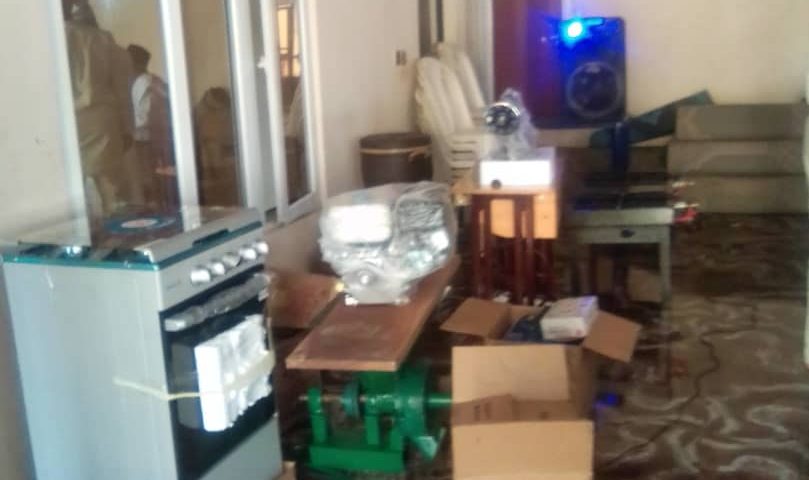 To this end, the items distributed by Zakat and Sadaqat Foundation According to Prince Suleyman to the 35 carefully selected beneficiaries across the 25 Local Government Areas iof Delta State included amongst others: Granding Machines, Refrigerators, Sewing Machines, Gas Cooker, Generators and other items including cash, which is making Delta State amongst the eighteenth States covered covered so far in Nigeria within three months as part of this year's charity distribution.
While Commending the gesture, the Chairman of the occasion, DC CIID, Aminu Alhassan, and other digitaries, the DSI Immigration, Abdul .A. Mshelie, Foundation's Operations Manager, Alhaji Ahmed Ma'aruf, The Foundation's Delta State Coordinator, Vice President General, Nigerian Supreme Council for Islamic Affairs and Secretary General, South -South, Supreme Council for Islamic Affairs, Barr. Isiaka Ojei, the Chief Imam, SSA Special duties, Alhaji Usman Mukta and others admonished the beneficiaries to make judicious use of the items.
Barr. Isiaka advised further that those empowered to be self- sufficient should also contribute to the success of others in the nearest future; the beneficiaries included one Chioma Mutiat, Katima Mukta, and Tajudeen Saheed in a vote of thanks Commended the Foundation abd prayed for God's support to the Management to be a continuous blessings to the less privileged groups in the society.