By Victor Bieni
A Professor of Cyber Security, Professor Alex Atawa Akpodiete has disclosed that his World acclaimed Information Communication Technological Company, Atawa Technologies LLC in Conjunction with Atawa training Institute will conduct training trainings for students and all interested Nigerians in two different centres in Nigeria to start with, precisely Abuja, Nigeria's Federal capital territory and Asaba, Delta State Capital.
Professor Akpodiete who spoke to our reporter via telephone stated that the training will presents, students will be trained on: ICT Fundamentals+, Cyber Security, and Cloud computing essentials.
The Deltan born American Professor, Computer Scientist, and seasoned Journalist Stated further that the one day program which will later be done consequently for five days will be backed up with International Certification for students, all the participants.
The World renowned Cyber Security expert noted that the training is limited to only 50 participants, therefore will take place on Monday, November 25th, 2019 at Transcorp Hilton, F.C.T, Abuja, Nigeria.
The Professor who doubled as the publsher of Politics/Governance (Magazine, Newspaper, online News), also that the second phase of the training would take place on Wednesday, November 27th, 2019 in Asaba, Delta State Capital at Golden Tulip Hotel, Maryam Babangida Way, Asaba.
He then urged all stakeholders; Students, Businessmen and Women, those in different fields of studies, Industrialists, CEOs, ICT Personnels, public and Civil Servants Computer Scientists, all and sundry to take advantage of the program and get themselves registered to participate as the training costs little, a minimum of fifty thousand naira only (#50,000.00), while the costs of the costs of training for five days costs a minimum of four hundred thousand naira only (#400,000.00).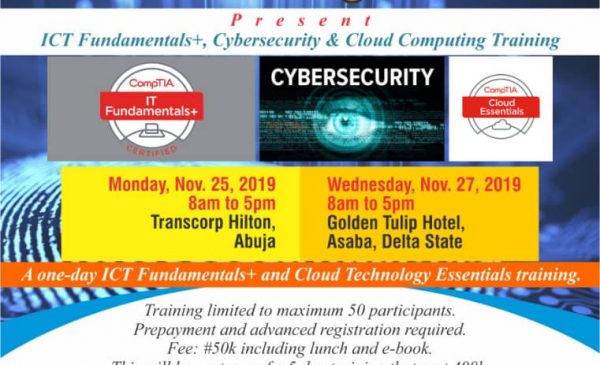 The University DON then highlighted some of the benefits which included amongst others the sponsorship of twenty persons for further studies in America.