Deputy Senate President and governorship candidate of the All Progressive Congress, APC in Delta state, Senator Ovie Omo-Agege has reveale that Rt. Hon Friday Osanebi was picked as his deputy at the 2023 election bridge the gap between the youths and governance.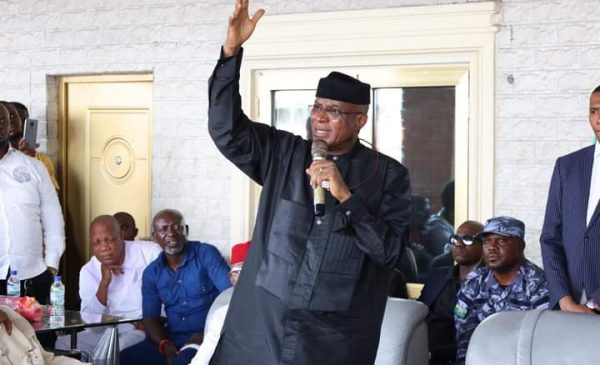 Speaking, Sen Omo-Agege  who made this known during a courtesy visit to an prominent Ijaw leader, Dan Ekpebide in Warri, Delta state disclosed that Osanebi was picked as his deputy running mate to be an ambassador of the youths in his administration.
He said, "When we talk about the youth, i can assure you that deltans will be happy with an Omo-Agege and Osanebi administration because i have said that in that caucus to take decision about how the state will be run, about 60 percent of the people between 25 to 45 age bracket will be involved.
"Today Osanebi have served his people, he has been elected three times to represent his people of Ndokwa East constituency at the House of Assembly and in the course of that service, he has also risen to the position of number four citizen of this state by being elected as the Deputy speaker of the state house of Assembly.
"I believed with him on my side and the Ijaw leaders, we are prepared to change the narratives, provide good governance just as we want people to see governance as service and not a career.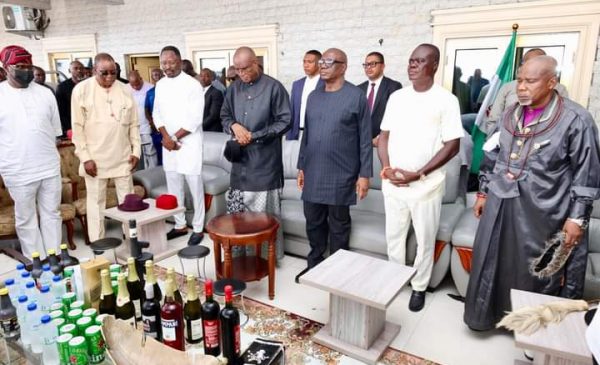 "Most companies that moved away from Warri to Lagos, the only reason they sight is insecurity and we know if for some reasons, we are able to bring back those oil companies here, it will create employment for our people.
"But before we must make a genuine and a valid case as to why they must return, we must create an enabling environment and ensure we address the issue of insecurity in Warri and indeed Delta state and that we want to insist that one of the cardinal pillar for our agenda is to provide enduring peace and security for our people.
"And i can assure you that Deltans will be happy with an Omo-Agege and Osanebi at the state because about 60 percent of the people within 25-45 age bracket will be involved and that is why he was picked."
On his part, Chief Dan Ekpebide, disclosed that the Ijaws are behind Ovie Omo-Agege and Friday Ossnebi aspiration to become the next governor of Delta state.
He said, "After 2007, i have never played active role in politics till date but today i am wholeheartedly declaring my support for my brother and that which represent in APC and the official declaration will be done in Okerenkoko my ward headquarters.
"But now, i am assuring you that am not alone as my brothers in the struggle are also involved becaue we have done so many things together.
If you looked it properly, it look as if it only Delta Central that has a representative at the senate, Waive is also doing well, and we want to believe that with what you are doing, when we move with you, it will be extended to our people."
Also, Elder Timi Ogoriba, a leader of the Ijaw in his speech said,  Our father,Chief E.K Clark has declared his support for you and he commands respect in the Ijaw Nation, when he speaks, his kinsmen would follow.
"Our father has given you (Senator Omo-Agege) his blessings. He is the father of the entire Izon nation. It was well publicised. I watched it on television when he said, 'I am of PDP. They didn't do what was right. So I have left them. Now that you are here with me, I will vote for you'.
"And if those things have been stated by our elder like that, who are we? We will give him that support that he deserves and go ahead with that.
"Today, you are seeing some of us from Bayelsa, Rivers, Edo, adding our voices to those in Delta State. They are our brothers, kith and kin. Whatever affects them affects all of us. We will give them that support and ensure that when the day comes we will know where to cast our votes," he said.
Elder Ogoriba called on the Deputy Senate President not to neglect the oil-bearing communities of Ijaw when elected as governor. He lamented that despite laying the golden egg, the Ijaws have been neglected by successive administrations in the state.
When you becomes the governor, kindly replicate this record-breaking achievements as lawmaker in all parts of the state.
"I am meeting you formally for the first time but we have heard so much about you. I heard about you when my wife was going to school in Anwai, you were the SSG of Delta State.
"We have heard so much about you. Today, you are the Deputy President of the Senate. That is a very high office. It didn't come very easy. It's by dint of hardwork that you have ascended that office. And taking an office is one thing, but doing justice with that office is quite another. And we have seen that you have been using the office altruistically; that is to the welfare of so many persons, your constituents and Delta as a whole.
"This House met on July 4th and said there is one man that we have to meet. Because looking at his credentials, if we give him support, those of us that are from The Struggle Platform, together with Deltans, I think we will go places.
"We are happy and you can see that so many persons are here because they believe in the cause. If we do not believe in it, we will not be here.
"And nothing goes for nothing. We believe that something definitely will be given to our people so that by the end of the day, they will know that where we gave our support to, has brought credence to us so that we can get the dividends of democracy".
Senator Omo-Agege was accompanied to the event by his running mate, Rt. Hon. Friday Ossai Osanebi; State APC Chairman, Elder Omeni Sobotie; Chairman, APC Delta Central, Chief Paulinus Akpeki; APC House of Assembly Candidate for Patani State Constituency, Barr. Raymos Guanah; High Chief Michael Johnny; former Commissioner, Chief Chris Ekiyor, among others.