By Igbunu Miracle 
For his philanthropic and human development to Urhobo Nation, Delta State and the nation at large, the Orovworere of Effurun-Otor kingdom, HRM, King Duku II,  has conferred a traditional chieftaincy title on Dr. Ovie Ughwanogho as the ejoyovwi 1 of Effurun-Otor.
Dr. Ughwanogho, a United States of America based medical doctor was honored for his continuous contribution growth of the Urhobo youths, through the his support for their self reliance.
It would be recalled, Ughwanogho in collaboration with Urhobo Progressive Youth Association, UPYA sponsored Urhobo language quiz competition, and the recent ongoing skill acquisition in Eku community.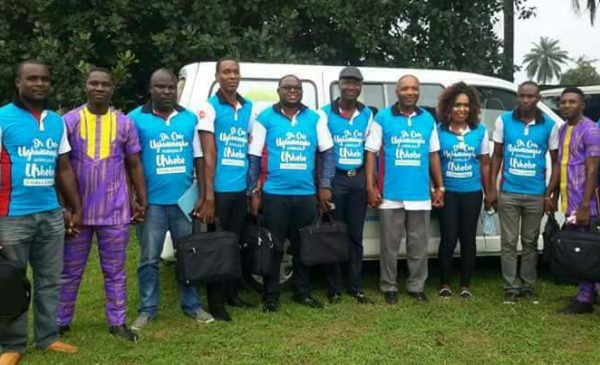 Congratulating the Ughwanogho for the honor, UPYA president, Comrade Marcus Ekure said, "This honour came on the heels of his overtime philanthropic disposition and  outstanding contributions to the overall growth and development of Urhobo nation in areas of youth empowerment, human capital and community development via UPYA and other platforms.
"Last year, the American based Medical Doctor donated a Toyota Hiace bus and 18 laptop computers to aid as mobile the empowerment institute for vocational empowerment of our youths.
"He was also responsible for sponsorship of the Urhobo Challenge for all Secondary Schools in Urhobo nation which ran in millions of naira. His appetite and passion for education has seen him building and renovating class room blocks for public schools in Urhobo land and the awards of scholarship to students at different levels.
"He is meaningfully behind the ongoing Empowerment Operation at Eku, Igun and Oria axis of Ethiope East."
Also, the captain of the Eku axis of empowerment train, comrade Councillor Denis  in his congratulatory message said, "If you are genuinely interested in the affairs of men and take responsibility, men will give you a level of sovereignty over their affairs and it is in your jurisdiction never to fail them."
However, the UPYA has commended King Duku II for finding Dr. Ovie Ughwanogho worth of the traditional  title.
"We are pleased with the Orovworere of Effurun-Otor kingdom for finding time with Urhobo youths to ensure they are off street with his contribution to their development."