By Joe Favour & Michael Veloh/ Asaba
Suspected members of the Indigenous People of Biafra (IPOB) have killed an unidentified truck driver of Alhaji Aliko Dangote and burnt many cars at Ugbolu community few meters away from Asaba, the Delta state capital in those to enforce the sit at home order.
According to sources two Dangote trucks, a Tricycle, an Audi, volkswagen at Ugbolu  community, were all set ablaze.
It was gathered that rampaging IPOB members storm the  community on the early hours of Wednesday barricading the Ugbolu/Illah road at Mile 5 with sporadic gunshots into the air.
The owner of the tricycle who identified himself as Chinonso Okafor, narrated his ordeal while speaking with newsmen said he walked into the scene while going out for the day's hustle.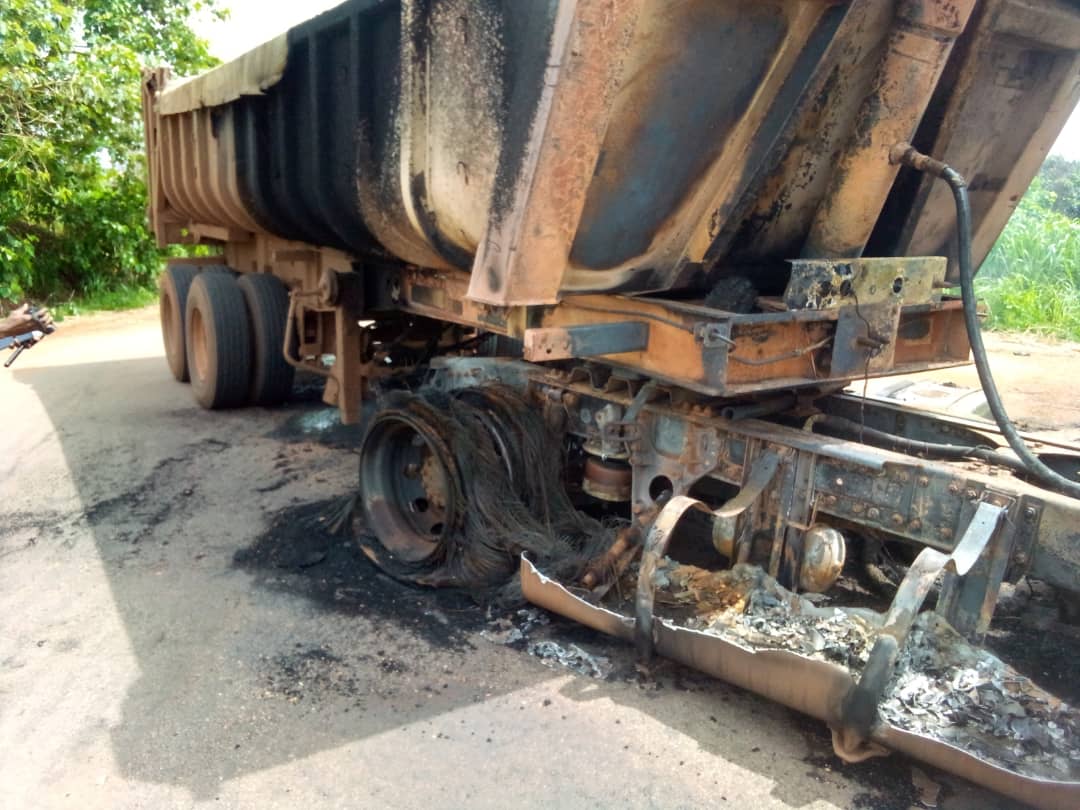 He said he was forced out of his 'Keke' before it was set ablaze, saying despite several plea that the Keke was his source of livelihood they went ahead to burn it.
Residents of the area fled into the bush for fear of being hit by stray bullets.
He explained that those coming  to work from the community to Asaba were held for hours as no vehicle was allowed to cross over to either side, adding that the assailants came as early as 6am.
Confirming the incident to journalists, the Delta State Commissioner of Police, CP Ari Muhammed said the police receive information at about 6am on Wednesday that IPOB have blocked the road, and immediately drafted its men who were already on patrol to the  area.
He  said, "At about 0600hrs, we received call  that IPOB have block the road somewhere at the outskirt of Asaba, Ugbolu but unfortunately for our men were already on their way and also, two Dangote trucks carrying cement that  were coming from Ogbe-Illah was intercepted, the driver was asked to come down, they asked him what he was  doing in the road despite the sit at home order. He told them that he was not aware of any sit at home. They  forced him out and shot him point blank and he died.
"Before we got there they have deserted  the place. Consequently upon that we  went round he whole place in search of these hoodlum but they were gone. "
The Commissioner warned that the force was determined to deal decisively with  anyone who wants to ferment trouble in the state, adding that Delta state was not part of South East and therefore IPOB cannot implement its sit at home in the state.