The remains of Mr Godstime Omamuyovwi Ovwiokpe who died in a accident involving a senior Police Officer, ASP Edet Edet Emmanuel attached to Ughelli 'A' division, has been laid to rest amidst uncontrollable tears at Awirhe-Agbarha community, Ughelli North Local Government Area of Delta State.
Godstime Ovwiokpe, 44, father of four was involved in an accident with ASP Edet Edet Emmanuel, on May 14, 2023, while going to church service on a Sunday morning when the incident occurred.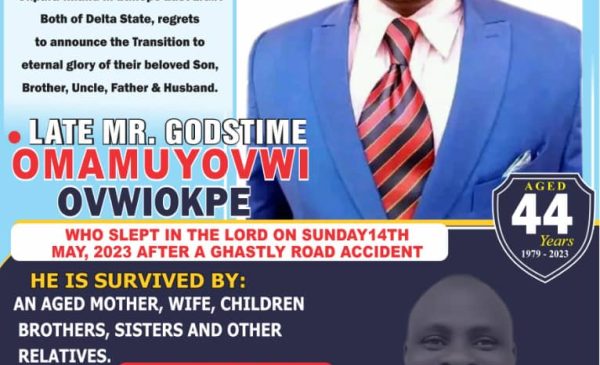 It was learned that the deceased father lost his last son, Ephraim 2, and four others of his children were critically injured.
"Ephraim died instantly and was buried same day, while five others, Mrs Umolo Philomena, Ebenezer, Sandra, Enoch and Oghenemine were rush to a private hospital in Warri and Delta State Teaching Hospital Oghara respectively.
"One of the surviving sons had a brain surgery at Oghara and Sandra undergo an operation on her leg and they are currently recuperating with others." a family source disclosed.
The service of song for the late Ovwiokpe was held at First Baptist Church, Ughelli on September 7, while he was buried at his family compound in Agbarha.
"The son that had brain surgery is currently undergoing the process of how to talk and hear because of the severe injuries sustained in the accident", a security source revealed.