By Omoghene Benedict 
As part of his effort to promote quality education in schools, Prince Sony Jifas Ogbon, Special Assistant to Delta State governor on Youth Development has donated learning materials to over 50 Primary Schools in Ughelli South and Ethiope East Local Government Areas.
The pupils and staff were presented with complete sets of Note books, Mathematical instruments, School Diaries and Registers, Wrappers and other educational materials for their effective learning.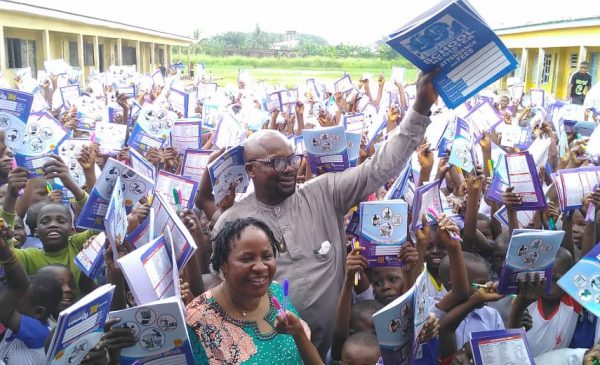 Addressing Staffs and Pupils in both Local Government Areas, Prince Ogbon said, "I am aware of the difficulties some parents passed through in providing writing materials to their wards  especially in the rainy seasons because it is difficult for them to go to farm.
"I feel bad whenever I thought of it because this has deprived so many pupils from continuing their education.
"In my little way i decides to support the pupils because they are the foundation of any great nation and as well encouraged the teachers who are collaborators in the success story of the children.
Prince Ogbon who urged the pupils to take their learning very serious also charged them make judicious use of the books and other writing materials.
Some of these things as sort of obstacle to your educational career and by the grace of God, you have gotten them freely and you must ensure to maintain whatever thing that is given to you.
Speaking further, Prince Ogbon admonish teachers for their role in building a stronger nation by giving quality education to pupils in primary schools
On the part of the teachers, Prince Sony Jifas Ogbon also presented wrappers to each teacher with a token to serve as incentive and as weel to appreciate and motivate them for the good work done and urged them not to relent in their efforts.
Mrs. V. A Ekrebe Head teacher of Ogoni Primary School in Ughelli South, and Mrs. Akatabota Rose of Urhodo Primary School Ovu in Ethiope East, LGAs Lauded the kind gesture of Prince Ogbon for coming to their aid of the pupils.
According them, these items donated will help to improve the teaching of the pupils our various schools and we are appealing to other individuals to emulate Prince Ogbon for his kind gesture.