...As Two Suspected  Kidnappers  Are Arrested
By Victor Bieni
Issele-Asagba Mixed Secondary School located at Issue Asagba in Aniocha North Local Government Area of Delta State was thrown into a theatre of crisis, pandemonium as Students scamper for safety between 10am to 11am in the morning as Masked gunmen suspected to be Fulani herdsmen, about eight Kidnappers in number storm the School Premises and abducted the Principal, and four other teachers, whisked them unknown destination.
The aborminable situation, Criminal incidence drew the attention of the Community Youths, and Vigilante with the Support of the Nigerian Police Force, and Army to mount surveillance in the entire bush of the Community.
One the Community Youths in Issele-Asagba who was part and parcel of the Survellance to rescued the Kidnapped teachers, Comrade Williams Ugbo, who spoke to our reporter in a telephone stated that the Youths and the Vigilante having known the terrain of Issele-Asagba bush with the combined efforts of security agencies, the Police and Army were able apprehend two Kidnappers and rescued the Victims from the den after a severe exchange of gun shots between them and the Kidnappers.
Though some of the Youths and Kidnapped Victims Sustained some injury as a result of gun shots, but commenced the courage, gallantry, swiftness, aptness to which they responded to the call to rescue the people in that ugly trend, situation.
He then thanked the almighty God for saving the lives of the Kidnapped Victims and also helping the Community Youths and security forces as two of the Kidnappers has been captured.
wondering how the suspected abductors were able to beat the school security, they also hinted the school would pay d ransom if their parents are adamant.
Mrs Christy Ojei, a member of the Women Wing of the Community who spoke to our reporter alongside Comrade Ugbo hinted that the porous nature of the School in terms of lack adequate security in the school premises as the school is not fenced might have give the Kidnappers an edged to perpetrate such act.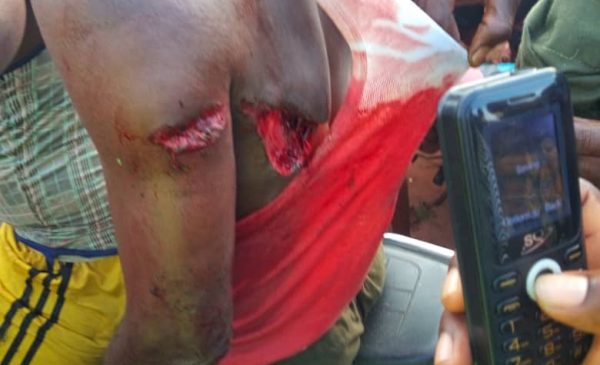 The duo then appealed to the State Government to fence the entire school, provide adequate security for the students in the school, equip the Community Vigilante with the needed Security apparatus to fight crime in the locality.