……PDP, Party Leaders in Aniocha/Oshimili rejoices
….. restates Commitment to policies that would end Xenophobia, poor leadership and Infrastructure, insecurity and wanton killings.
….Commends Delta State Government Commitment to end illegal Migration.
…..advises to Youths to contribute to the development of their fatherland
….. Groups Commend gesture
By Victor Bieni
ASABA- It was a carnival-like event on Friday 30th of August, 2019 as the entire Stakeholders -Youth groups, Women groups, Civil Society Organizations, Elumelu Support groups, Members of Movement For Democratic Emancipation Students, Members of Peoples Democratic Party (PDP), Party Leaders, political stakeholders, entire people of Aniocha/Oshimili Federal Constituency, Delta State, Nigeria and Globally stormed Asaba International Airport to welcome one of their Illustrious sons.
The gathering that witnessed great merriment in the ancient Community of Onitcha -Uku was indeed a gala nite for all great sons and daughters of Aniocha/Oshimili and all well wishers of the largest Federal Constituency in the Country.
Hon. Ndudi Elumelu is one of the few politicians in Anioma Nation that knows the importance of grassroot politics, has the ability to relate very well with the Citizens who elected them into political offices. No wonder Party Leaders and other political stakeholders in Anioma Nation are fully in support of his Leadership of Aniocha/Oshimili Federal Constituency, knowing that he has the capacity to deliver at any point in time!
The Chartered Accountant turned politician has resumed duty, been away for the national assignment of given effective and efficient represention.Hon Ndudi Elumelu, a three- time member of the Federal House of Representatives, Aniocha/Oshimili Federal Constituency no sooner than he resumed emerged the Minority Leader, Federal House of Representatives.
Aniocha/Oshimili People decided to honor their own using every available Cultural dance, artifacts: The popular "Ebu Wonder", Enuani dance band, these are the best Cultural dance in the global context, apart from the "Onoli" Masquerade Dance" now discovered in Ndokwa Nation that is recognised at present by Cultural experts as one of the best Masquerade Dance in Africa.
Anioma people, precisely Aniocha/Oshimili People are known for their rich Cultural heritage.
Delta State is not an exception as a multi- ethnic state like a mini- Nigeria.
Nigeria as a Country is made up over 450 ethnic groups, therefore Cultural tolerance inevitable towards peaceful co-existence, and socio-economic development.The Member Representing Aniocha/Oshimili People in the Federal House of Representatives, and the Minority Leader of the House is a man of the people indeed to have had such a tumultuous crowd of that nature in his Federal Constituency welcoming him back to his locality and country home at Onitsha Uku in Aniocha North Local Government Area of Delta State.
The erstwhile Chairman, Committee on power, and health during the regime of Olusegun Obasanjo received the blessings of his people to go back and make his people proud ones again. He did fulfilled the first promise by overcoming the huddles of elevating his position in the Federal House Leadership to make Delta State proud. He has also fulfilled the promise of identifying with his constituents as a grassroot politician.The Responsibility of making Nigeria great is now rest upon his shoulder as the voice, mouthpiece of the Minority Opposition Members of the Federal House of Representatives.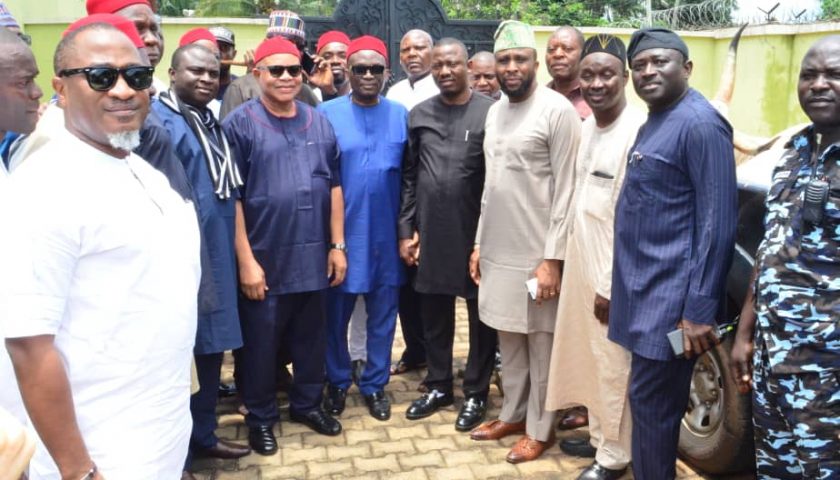 No doubt, with this triumphant entry he is set to embark on another agenda towards Nation building, quality leadership and massive Youth employment opportunities, development and entrepreneurship development by ensuring that Nigerian Youths return home to work, invest and get employed in their own country.
The issue of Xenohobic attack of Nigerians abroad. Nigerian Youths been in the wanted list of FBI as result of Yahoo Yahoo jobs and other ritual killings, and other crimes, the negative effects of lllegal migration, poor economy, infrastructure and unemployment challenges faced by youths in Nigeria, security Challenges and some other issues that contributed to them seeking greener pastures abroad, he is now set to address for socio-economic development of the Country.
Elumelu who addressed Newsmen at Asaba International Airport cited some cases of Xenohobic attack of Nigerians in South Africa and the recent invansion of the Members of the Shites group in terms of making reference to insecurity in the country. He commended the Delta State Government under the administration of Governor Ifeanyi Okowa for taking steps to respond positively to the plight of Delta, and checkmating illegal Migration.
The Lawmaker opined that if Nigerian Youths , Women are given the right empowerment, needed employment opportunities, the idea of going abroad to look for greener pastures will be a thing of the past
He affirmed that the National Assembly will make favourable policies that will end the menace once it resumed from recess.
In his Words: "The House has already constituted the Committees and I believe that as soon as we resume, one of the first things that they will look into is the issue of Xenophobia and other killings that are ravaging us in the country".
"I have no doubt that we have the capacity to handle these challenges. Most importantly for us and the government of Nigeria to be up and doing in terms of creating the the critical infrastructures that will ensure that people are discouraged from leaving the country in search of greener pastures. Once we have that in place it will, to a large extent , mitigate against people migrating out of the country".
"Governor Ifeanyi Okowa is very responsive to the plight of Deltans. I believe that giving the necessary empowerment , not only to the youths, but the Women, to a large extent, reduce the illegal outflow of Youths for greener pastures".
In a Separate interview with some of the team of supporters by Newsmen, The Director-General, Elumelu Campaign Organizations, and Movement for Democratic Emancipation (MDE), Chief Anene Chigbue, Former Minister of Defense and Agriculture, Dr. Chris Agbabu, The PDP Chairman, Aniocha North LGA Chapter, Hon Prince Victor Egbune, and the PDP Chairman, Aniocha South LGA, Chief Abu Ndekwu, Party Leaders, Chief Nkem Okwuofu, Special Adviser to Governor Okowa on Policy and Evaluation matters, Prof Sylvester Monye, the Executive Chairman, Aniocha North LGA Council, Hon. Child Oseme, Aniocha South MDE Boss, the Aniocha South Coordinator, Barr. Youths Association for Sustainable development in Delta State (YASDID), Comrade Chris Osamor, to mention but a few commended the emergence of Hon. Ndudi Elumelu as Minority Leader, Federal House of Representatives.