The United States agreed to start negotiations to allow South Korea to build more powerful ballistic missiles in order to counter North Korea's fast-advancing missile technologies, the office of the South's president said on Saturday.
President Moon Jae-in of South Korea, long considered a dovish leader, called for arms buildup talks with Washington hours after the North launched an intercontinental ballistic missile, or ICBM, that experts said had a range long enough to reach the West Coast of the United States and potentially target Chicago and New York. The White House quickly accepted the proposal, his office said.
Mr. Moon's top national security adviser, Chung Eui-yong, called his White House counterpart, Gen. H.R. McMaster, early on Saturday to propose that the allies immediately start negotiations to allow South Korea to build up its missile capabilities. Seven hours later, General McMaster confirmed that Washington accepted the proposal, said Mr. Moon's spokesman, Yoon Young-chan.
There was no immediate confirmation of the exchange from the White House.
Earlier on Saturday, Mr. Moon also ordered his government to cooperate with the United States to install an advanced American missile defense battery known as Thaad, whose deployment in South Korea had been suspended since he took office in May.
Mr. Moon's actions signaled that the growing missile threat from North Korea was spurring an arms buildup in Northeast Asia. Japan earlier said that it was considering buying ballistic missile defense systems from the United States.
Missile analysts remain uncertain and even doubtful that North Korea has cleared all the technical hurdles to build a reliable nuclear-tipped ICBM. But the test on Friday night left little doubt that the country, although cut off from most of the global economy and hit with several rounds of United Nations sanctions, was getting closer to its goal of arming itself with long-range missiles that can deliver nuclear warheads to the United States.
South Korea fears that by building nuclear missiles that can reach major American cities, North Korea is trying to weaken the United States' resolve over whether to intervene on the South's behalf should war break out on the Korean Peninsula.
On Saturday, Mr. Moon called for strengthening South Korea's deterrence capabilities, while stressing the importance of the military alliance with the United States.
"We must actively look for measures to secure our military's own forces to deter and effectively deal with North Korea's nuclear threats," Mr. Moon said after an emergency meeting of his National Security Council on Saturday.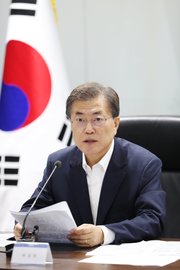 South Korea wants to build ballistic missiles that can deliver more powerful payloads to targets in North Korea, including the location of its leadership and its missile and nuclear sites, most of which are hidden deep underground, defense officials here said. A key hurdle to the South Korean ambition has been a treaty the South signed with Washington in the 1970s in return for American help in building its missiles.
Under the deal, South Korea is allowed to build ballistic missiles with a range of up to 497 miles but is barred from tipping them with warheads weighing more than 500 kilograms, or half a ton, because of concerns about a regional arms race. South Korea wants to double the upper limit of the payload to a ton, officials here said.
(South Korea can already load warheads weighing up to two tons on ballistic missiles with shorter ranges, but those missiles cannot reach key missile bases in northern North Korea.)
The South Korean demands reflected growing regional jitters over how the North's growing missile capabilities may affect Washington's defense commitment to its allies in the region. On Saturday, Mr. Moon warned that the latest North Korean test could lead to "a fundamental change in the security structure in Northeast Asia."
"U.S. policy for 21 years has been to prevent this day from coming, and now it has," said Adam Mount, a senior fellow at the Center for American Progress in Washington, referring to the North's ICBM test on Friday.
"North Korea didn't test an ICBM to launch a bolt from the blue against Washington; they're hoping to split the United States from its allies."
Barry Pavel, director of the Brent Scowcroft Center on International Security, said North Korea could use a nuclear-tipped ICBM capability to "target the United States and deter U.S. security cooperation with its close Asian allies."
"Once it is assured that it has a 'nuclear shield,' North Korea is likely to act much more aggressively in every other area of its foreign and military policies," said Mr. Pavel. In "Rolling Back the Growing North Korean Threat," the Atlantic Council's memo to Mr. Trump published last month, Mr. Pavel and the co-author Robert A. Manning said that such North Korean aggressions could include "increasingly dangerous provocations and the sale of weapons of mass destruction to other nations and terrorist groups for much-needed cash."
Secretary of State Rex W. Tillerson on Friday reaffirmed that the United States "will never accept a nuclear-armed North Korea nor abandon our commitment to our allies and partners in the region." At the United Nations Security Council, Washington is urging China and Russia to agree to a new set of economic sanctions against North Korea, including severely curtailing the country's access to oil supplies from the outside.
China and Russia supply nearly all of North Korea's oil imports and also host tens of thousands of the North workers. A bulk of the workers' earnings end up in the coffers of the North Korean leadership, according to human rights groups and defectors.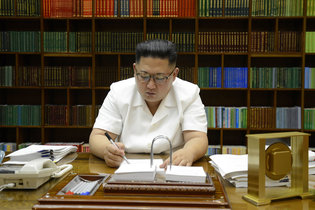 "As the principal economic enablers of North Korea's nuclear weapon and ballistic missile development program, China and Russia bear unique and special responsibility for this growing threat to regional and global stability," Mr. Tillerson said.
But there is a growing frustration over China's reluctance to use its economic leverage to rein in the North's nuclear ambitions and over Washington's inability to persuade Beijing. China accounts for more than 90 percent of North Korea's external trade, but it fears the collapse of the Communist government on its border more than a nuclear armed-North Korea.
Mr. Moon acted on such frustration when he decided on Saturday to reverse his decision to suspend the deployment of Thaad, the American missile defense battery. China has vehemently opposed the arrival of a powerful American antimissile radar on its doorstep. Many of Mr. Moon's progressive domestic supporters have also opposed the deployment, calling it a dangerous escalation of tensions in the region.
One of the first things Mr. Moon did after taking office was to suspend the Thaad deployment until a study of an environmental impact of the deployment is completed.
"China has weakened its own rationale for opposing the Thaad deployment by failing to use its unique influence with North Korea to stop its second ICBM test," said Cheong Seong-chang, a senior researcher at the Sejong Institute, a think-tank in South Korea.
North Korea first tested its ICBM, the Hwasong-14, on July 4, although in that earlier launching, North Korea didn't demonstrate the missile's full range.
Mr. Cheong said that South Korea and the United States could reconsider the Thaad deployment only if China helped denuclearize North Korea by stopping oil shipments, sending North Korean workers home and cracking down on cross-border smuggling that helps keep the North Korean economy running. North Korea remained defiant.
"The U.S. trumpeting about war and extreme sanctions and threat against the D.P.R.K. only emboldens the latter and offers a better excuse for its access to nukes," said the North's leader, Kim Jong-un, referring to the country's official name, the Democratic People's Republic of Korea, after watching the missile test on Friday.
North Korea will conduct more ICBM tests to secure and demonstrate an ability to deliver a warhead through the Earth's atmosphere, said Kim Dong-yub, a missile expert at the Institute for Far Eastern Studies at Kyungnam University in Seoul.
Missile experts said that one of the last hurdles North Korea must clear is the so-called re-entry technology that allows a warhead to survive intense heat and the destruction of its outer shell as it plunges through the atmosphere from space. Mr. Kim said that in future tests, the North might try to demonstrate an ability to detonate a warhead after it has survived re-entry.
Source: nytimes.com