Candidate of the African Action Congress for Delta State House of Assembly, Bomadi constituency, at the 2019 general elections, Comrade Tam has berated former Special Adviser to Goodluck Ebele Jonathan, Reno Omokri over the continuous detention of Omoyele Sowore by the Nigerian government.
Reacting to Reno Omokri jibes,Tam said,  a country of good people will not allow Sowore to in prison for an hour because he is for the emancipation of the Nigeria populace.
He said, "I have tried to avoid Reno Omokri and his at times completely misleading writings.
"I don't want to make him so important by replying him about his recent mockery of Omoleye Sowore, a dogged human rights activist, illegally arrested and charged with treasonable felony but for the sake of my army of dedicated readers, I will correct some falsehoods cooked up by money induced pens of Reno and his types ..
Never have i been sympathetic to any bad government and will never be despite the cultural, religious or ethnic advantages such government may selfishly offer…
"Anyone using the unfortunate situation of Sowore's inability to secure his inhumane bail conditions to mock  a particular ethnic group is directly an enemy of all genuine nationalists.
We should by now outgrow tribal sentiments in this British creation , the concubine of Lord Lugard playfully called Nigeria.
"Created to remain British partition forever through tribal and religious intolerance and economic degradation.
"Omoleye Sowore is from the Apoi Ijaws in the present day Ondo state and has truly fraternized with the Yorubas due to the bicultural influences that effect most of the Apoi and Arogbo Ijaws of Ondo state.
"He has never played any tribal or regional politics . To the best of my knowledge, he is more of a nationalist than a mere belled tribal jingoist.
"People who are mocking the Yorubas for not coming together to help secure Sowore's bail conditions are indirectly cajoling the Ijaws , his true origin and Nigerians in general..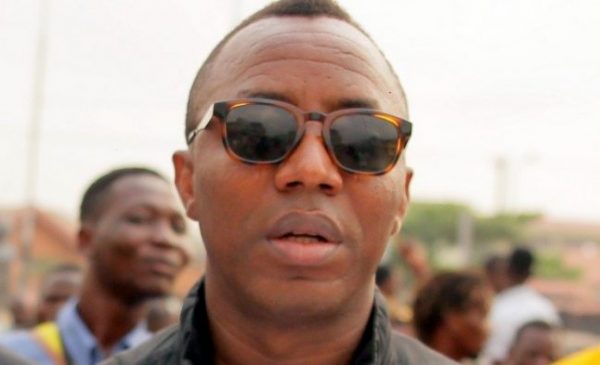 "Sowore's struggle was not particularized to the Yorubas or Ijaws who have never supported him due to the psychological peck PDP used through the stage-managed Goodluck Jonathan's so called presidency to blurr our eyes, and divert our genuine demands for resource control and infrastructural development in the Niger Delta.
"Sowore's campaign is for the emancipation of every Nigerian before he was whisked away in the dark hours by the tyrannical APC  Nigerian government just to cease the voice of the oppress ..
The inability of Sowore to meet up the demonic bail conditions for now has vindicated us that he was never a moneybag sponsored by some politically perceived elements to blackmail people, as being spread by mischief makers and stooges of the cabal who have succeeded in ruining this country since 1960 .
"Omoleye Sowore is just an ordinary Nigerian , tired of the total collapse of leadership in Nigeria , decided to take the bull by the horn by standing up against tyranny.
He is just an investigative journalist , may not necessarily be the saint but with very good intentions for our grossly bastardized country. Who are even the saints in this country?
"We don't need saints in this country, we need good people.
Sowore is unjustly detained because we're looking for saints or pretending to be saints . Saints hidden inside Bibles and Qorans , inside illusive ethnic savoury!
The search for saints and not good people has given us tyrants , completely incompetent and selfish leaders since 1960, the year doom begins.
A country of good people will not allow Sowore to be in prison for even an hour!
We should all as Nigerians be ashamed  for not supporting Sowore to meet up his bail conditions, including Justice Ojukwu who is shocked that no one has come up to stand for Sowore to pay the judicial  ransom of N50million she termed bail.
In a place where human beings are afraid to stand up for justice, God will stand up for the few who are brave enough to be exceptional.
Sowore shall be free, every activist shall be free and we have the last sweetest laugh…
I am cmr Tam, a true brother in the struggle.
#freesoworemandate #nevergiveupspirit #makingitright