…as SSG, EDFA call others appointees feat
Grandball Joel
THE Special Assistant to the governor of Delta state on DESOPADEC Matters, Hon Prosper Edo have presented 20 female trainees from the Prosper Edo Empowerment Program, PEEP with Starter Packs worth millions of naira with a charged for them to be self -reliant in their endeavors.
This is just as the secretary to the State government, Rt. Hon Festus Agas called on other political appointees in the state to emulate the empowerment gesture in various communities.
Speaking at Igbide, Isoko South, the president and founder of 'Prosper Edo Empowerment Program' PEEP, an affiliate of Bashorun Foundation, Prosper Edo said, "In line with the Smart Agenda of our smart governor, we replicated the Delta State Government Skills Training Entrepreneur Program, (STEP) model by giving out Free Employment biodata forms to interested applicants and this was followed by thorough interview to determine their zeal and enthusiasm".
According to Edo, "Among the 25 persons that registered for the 18-months program, 5 fell by the wayside, while 20 others were able to scale through training in Hair Dressing, Fashion and Design. We were able to establish two training centers and paid all their fees and the product of that is what we are seeing now"
"This is just the 1st Batch of the PEEP program we are unveiling, as we are making arrangement to open more centres in the community so as our youths will be pull off the streets so that they can live independently."
After the training, we empowered them according to their areas of specialization and Starter Packs was presented to them with funds made available for renting shops".
Commending the PEEP for the giant stride, secretary to the State government, Rt. Hon. Festus Ovie Agas who chaired the event urges all other political appointees in the state to emulate PEEP because the government of Okowa believes in Human Capital Development and Wealth Creation.
The school of Dr. Ifeanyi Okowa believes in 'Human Capital Development and Wealth Creation' and that is the school Prosper Edo attended through Bashorun Askia Ogieh that one must be train to have a skill, give Starter Packs, and provide finance and accommodation to those trained to be established.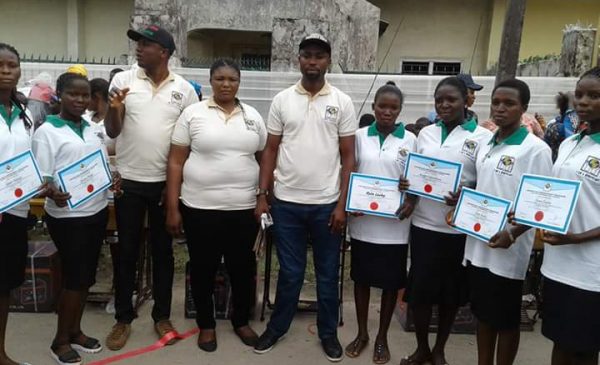 While enjoining the graduate trainee to be focused and work diligently in other to make the PEEP a success, he said, from time to time we shall be coming to monitor your progress in the business just as we encourage you to be employer of labour in other to make the society a better place to live.
On his part, the Executive Director, Finance and Administration at the DESOPADEC Board, Senior  High Chief Bashorun Askia Ogieh said, "Proper Edo is giving back to the people by allowing the dividends of democracy to go to the very people at the grass root level.
"Though it quite challenging but it should be emulated by all other appointees because we are taking this from our governor who believes in empowering the people".
 "To take youths from the streets, all political appointees and elected ones  should give back to the people no matter how small and make them to very valuable to the society".
Items presented to the beneficiaries are: 20 Generators, 12 Hair Dressing kits, 8 sewing machines with pressing Irons worth millions of naira.
Dignitaries presents includes, Secretary to the state government, Rt. Hon.Festus Ovie Agas, EDFA, Bashorun Askia Ogieh, Udu  LGA chairman, Hon. Jite Brown Delta State PDP youth leader, Hon. Bino Obuwomano, Mike Akpobire, Chief Mike Usige, the Oletu-Ologbo of Igbide kingdom, Dr. Alfred Oboghor, PG, Igbide kingdom, Hon Chief Godspower Obaro, DG Hope Alive, Chief Duncan Afahokor, Chief Kingsley Obedhoko, Samuel Askia Jnr and many others.