By Omamuzo Efidhere,
A US based Nigerian ICT expert, Dr. Alex. O. Atawa Akpodiete, has advised project managers to inculcate the culture of utilizing technology to improve performance.
Akpodiete, while delivering the keynote address on "Technology, innovation and the future of project management", at PMI Nigeria chapter conference 2018, with the theme: Innovate, Motivate, integrate held at VCP hotel in Victoria Island, Lagos recently noted that mature value delivery capabilities was one of the top three drivers of project success.
According to him, "mature means quick adaptation to change, balancing efficiency and capacity and promoting continuous improvement. While noting that businesses understand the power of digital innovations to reshape industries and markets, he lamented that "time and again, they have struggled to innovate with new and disruptive technologies."
In her address, president PMI Nigeria chapter, Mrs. Rosemary Imhanwa said that "As a chapter representing the Prestigious Project Management Institute in Nigeria, we have upheld this tradition November every year and will continue to do so.
This year's conference theme is tagged "Innovate, Motivate and Integrate" PM 2018. We the leadership team of our chapter picked this theme because we see it as key to unlocking ideas on project management to meet up with the fast-paced economy of developed countries and the developing countries around us.
We have also for the first time in recent times, reached out to students as a way of sparking their interest in project management and motivating them into using project management processes. We acknowledge the presence of students here who will be making a presentation as part of our side events for today's sessions. "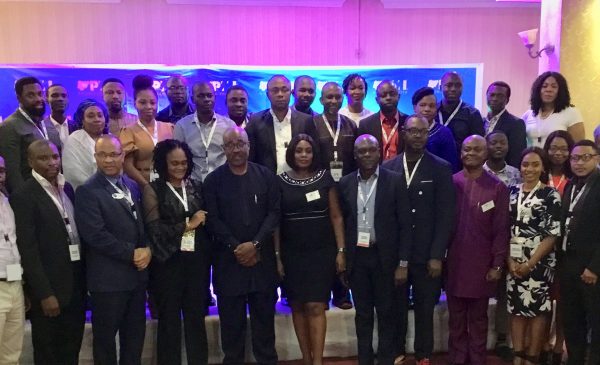 According to Dipo Tepede, "project managers should understand that innovation is vital to customer loyalty but it requires a project platform to breed. Complexities in projects are poisonous to innovation hence integration and motivation are essential antidote to complexities. "
Dr. Orode Doherty, who is a US board certified pediatrician and public health physician focusing on healthy communities, supporting development establishing livelihoods and reducing diseases, urged project managers to be willing to invest in the future, be audacious as difficult situations are met with motivated people, doing unusual things is vital to bringing it all together. She added that "integrating old with new experience still counts, but so does innovation and boldness."