By Omoghene Benedict,
The traditional ruler of Uzere Kingdom in Isoko South local government area of Delta State, HRM, Isaac Udogri I, JP has called on the state government and security agents to urgently come to his rescue over an what he described as coordinated attack on his subjects by masked men in military uniform.
It would be recalled that the monarch had in 2011, left the community due to internal crisis which led to the burning down of his palace only to return back in February, 2020 after nine years.
In a press briefing, the monarch alleged that, masked soldiers are aiding a coordinated attack on his subjects and inflicting life threatening injuries on them.
Excerpts:
I welcome all of you to this emergency press conference. It is necessary to make certain issues concerning Uzere crisis clear. As you may be aware, the crisis started in 2011 and this crisis led to massive destruction of lives and properties.
Because of the evil that follows it and the pain bore by my subjects in Uzere community, it was resolved that all over the years, many people have died, properties destroyed and they said, 'Enough is Enough' that the crisis should be resolved.
When His Excellency, the executive Governor of Delta state, Dr. Ifeanyi Okowa invited the leaders of the community for a meeting in Asaba, the leaders echoed the same thing that the crisis must be resolved.
Immediately, the governor directed Retired Major General Alex Ogomudia to handle the settlement and the leaders returned home, they briefed the community the outcome of the meeting with the governor and they were all happy.
Though, it took a long time before a meeting was summoned and before that meeting was summoned, 40 Wisemen of Uzere were selected in other to resolve the issue. These 40 Wisemen were presented and accepted by all.
On that Tuesday, less than an hour to the time of the meeting, it was cancelled and postponed to the next Saturday. These 40 Wisemen, when they got there on the said Saturday, some of them were screened out.
People came from Lagos, Abuja, Warri, and all over the country only to be told that their name are not on the list. This angered a lot of persons including members of the community and they said, Enough is Enough.
Nobody can play God while such is not God, that our king must come back home.
Then I was contacted and some of you were around when I came back, it was triumphant with large crowd welcoming back the king (Me) back to Uzere Kingdom with lots of celebration.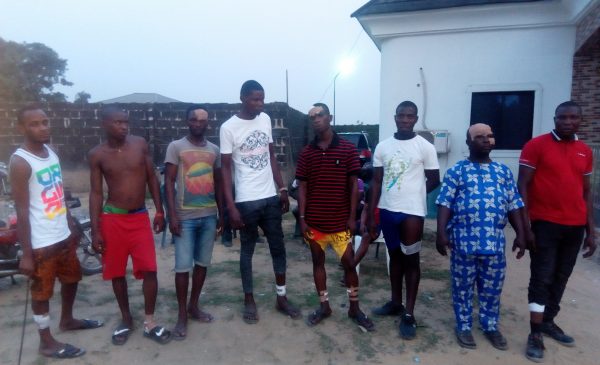 Not knowing that they were not happy and they boasted because they have been rubbish, they are going to cause havoc in the community.
Not quite long, two Hilux pick up van of soldiers were stationed at the front of the house of the imposter and regularly to be harassing innocent citizens of Uzere community.
These soldiers were helping the militants to shoot innocent citizens of Uzere community. If they are real and genuine soldiers, they should not have masked their face.
We have masked soldiers here in Uzere and I am using this medium to appeal to the whole world, Nigerians and Mr. President that we are under siege by masked men in military uniform.
A single person cannot claim to be a law and cannot be above the law and it is high time they should be called to order for peace to reign in Uzere.
There is no other king In Uzere and anybody parading himself is an imposter. I am the king gazatted, recognized by the government and give staff of office.
When they organized people to burn down my palace, I decided to leave temporarily and those ordered those boys to burn down my palace are the same people terrorizing me now.
Because of my peaceful nature, I have tried my best to meet with the Catholic Bishop, to appeal to them, Isoko traditional rulers travelled to Lagos to appeal to them, the chairman of Delta State traditional ruler council invited them and appealed, they refused.
I am appealing to my subjects to maintain peace and you can see that those who are being injured are my supporters and subjects.
After my coming back they vowed to make life difficult for Uzere people.
Many people have been injured 5 were shot and they are receiving treatment in different hospital while 7 were matcheted.