The Acting President, Professor Yemi Osinbajo has promised a major turnaround for Nigeria in the next 12 to 18 months.
To achieve this, Professor Osinbajo has asked the private sector to partner with the Federal Government and help upscale the nation's economy.
The Acting President made the call on Tuesday at the fourth Presidential Quarterly Business Forum at the State House in Abuja.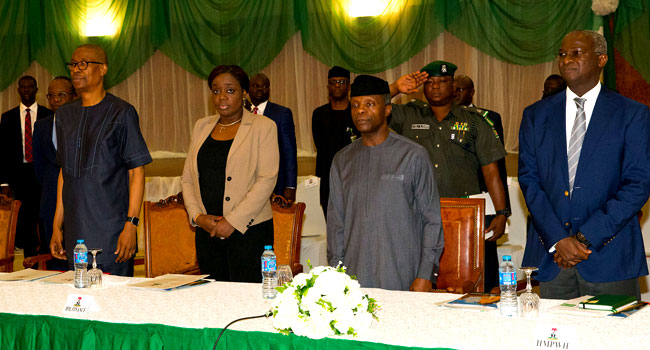 Addressing private sector stakeholders at the forum, he stressed the need for Nigeria to make progress despite obvious budgetary constraints.
On her part, the Minister of Finance, Mrs Kemi Adeosun said mobilising revenue through tax collection to fund the budget was crucial because the nation could no longer afford to borrow.
She challenged the private sector to take advantage of the Voluntary Assets and Income Declaration Scheme offered by the government and do the right thing to curb leakages in the system.
In his Democracy Day speech, Professor Osinbajo had identified the economy as the biggest challenge faced by the President Muhammadu Buhari administration.
"Admittedly, the economy has proven to be the biggest challenge of all," the He said, noting that it was a challenge the administration took seriously, considering the impact the recession was having on Nigerians.
The Acting President said government has been extremely mindful of the many sacrifices that Nigerians have had to make over the last few years, but expressed optimism that the government was on the right path to turn things around for the better.
Source: Channels TV