By Omamuzo Efidhere
The saying that charity begins at home was clearly demonstrated recently when the Founder and National president of The League of Women Voters of Nigeria (NILOWV), Rt. Hon Dame Esther Kelicha Uduehi PhD, KSG, LSM, FNIM, donated palliatives to the aged in Ukwuani, Local Government Area of Delta State.
Fielding questions from newsmen, Dr. Mrs. Esther Uduehi, said that the palliatives were to help cushion the effect of the lockdown on the old people in the area. "I understand that as old people, fending for yourself during this period would be tough because the major source of your livelihood is farming but your farm produce is difficult to sell because buyers are not coming to buy because of the lockdown.
"I know this has brought hardship to many homes. Everybody is affected but your wellbeing is very important to me because we need your advice based on your long experience to build on. Whenever I think of you and what you must be going through, I cannot sleep! This pandemic is really ravaging the world but we must eat to live and this necessitated these palliatives.
"Please be cautious when you handle money or have contact with people. Wash your hands with soap and water often and do not touch your face – Nose, eyes and mouth so as not to contract the corona virus called COVID 19. Try and maintain good hygiene by washing your hands often and staying at home." She advised.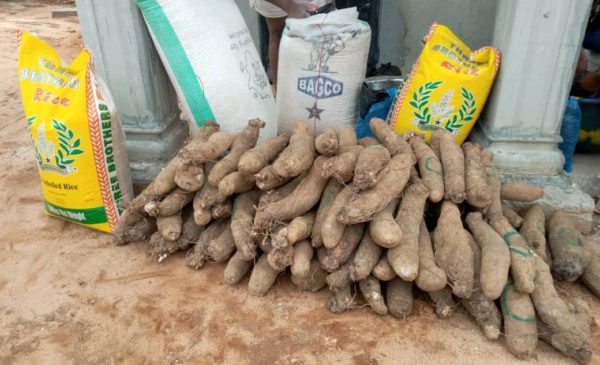 Lady Betty Atagoshi, was in charge of distributing the palliatives to the Aged on behalf Dr. Esther Uduehi. Items given to old women across the different wards in Ukwuani Local Government Area, includes Rice, Beans, Yams and Cash. The distribution method was impressive as social distancing was observed during the whole process of distribution.
The recipients thanked Dr. Mrs. Esther Uduehi for her generosity and stated that the palliatives would go a long way in feeding their families and prayed that God would replenish and supply all the needs of the donor for this singular kindness shown to them.