…donates relief materials to affected communities, victims of attack 
By Joel Grandball,
THE Urhobo Progress Union, UPU, the umbrella body of the Urhobo social-cultural ethnic nationality has demanded justice for the victims that were killed by suspected Fulani herdsmen at Agadama, Avwor and other Uwheru communities in Ughelli North local government area of Delta State.
The President general of UPU, Olorogun Moses Taiga in his condolence message at the Palace of the Odion R'Ode of Uwheru kingdom, HRM, Agbaovwe Afugbeyah Oyise II, said, "It is so heart-rending that these senseless massacre of defenceless citizens of the Urhobo nation by suspected Fulani herdsmen took place without provocation, and while our sons were legitimately engaged on their farmlands, for food and day to day living.
Relieflief materials were donated  to the affected communities that was visited by Olorogun Taiga, accompanied by UPU Board of Trustees Chairman, General Orho Obada (Rtd), Prof. Wilson Ibodje, Prof. G. G. Darah, Chief Emma Okumagba, Dame (Mrs) Christie Siakpere, Hon. Abel Oshevire  and other executives of the union.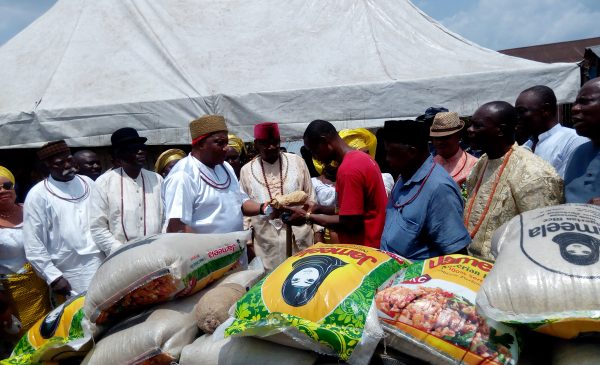 According to UPU PG, "Words cannot compensate for your losses and the lives that have been changed forever,  words cannot fill the vacuum in your lives caused by the death of your loved ones that have turned you into widows, made you fatherless, orphans and possibly left without heirs.
"The lethal attacks and killing of our people by Fulani herdsmen in Uwheru and other communities in Urhobo land will no longer be tolerated, there shall be no room for foreign invader and will never, ever surrender or cede an inch of her territory to any stranger.
"Enough is enough, these suspected killer herdsmen must be stopped and we are calling the federal government led by President Muhammadu Buhari to must the moral, political and constitutional will in stopping the heinous activities of killer herdsmen in Urhobo land.
"The menace is a huge obstacle to the peace, unity and sovereigntyof the Nigerian Nation. The law must take its full course because it is the duty of the Federal Government to protect the lives and properties of every citizens of this great nation and Mr. President must act now lest anarchy reigns."
"UPU demands that these killer herdsmen immediately leave Uwheru kingdom and the entire Urhobo land. We also call for a permanent presence of the military in Uwheru."
While lauding the quick response and supportive role of Gov Ifeanyi Okowa, Taiga appeal that UPU joins the call on the Delta State Government and House of Assembly to revisit and enact an Anti Grazing law.
"We also thank the Deputy Senate President, H.E Sen Ovie Omo-Agege,  Rev. Francis Ejiroghene Waive and Hon Eric Oharisi for their relentless push to ensure that our people are protected constitutionally and we are glad to call on the security agents to bring the culprits to book."
Responding on behalf of the Uwheru Kingdom, the Commissioner for High Education in Delta State, Prof. Patrick Muoboghare said, " The visit of UPU is like a healing balm to the people.
He said, The Fulani herdsmen are still in the bush and our people are no longer going to their farmlands for the fear of being attacked.
"Nobody in Uwheru sold any land to herdsmen, we are being blackmailed that we sold our land to herdsmen.
"I am appealing to UPU to speak with our traditional rulers to ensure that they emulate Delta North in giving ultimatum to these killer herdsmen to vacate our land. They liase with Delta South traditional rulers and communities".