Former House of Representatives member, Ughelli North, Ughelli South, Udu Federal Constituency, Hon. Solomon Ahwinahwi has described the Late PDP Chieftains, Chiefs Godspower Muemuifo, Amos Itiwhe and Friday Akpoyibo as dependable politicians that worked for the development of the Urhobo nation and Delta state.
Speaking during a Condolence Visit to the families of Late Godspower Muemuifo, Amos Itiwhe and Friday Akpoyibo in Ughelli, Ughelli North Local Government Area of Delta state, Olorogun Ahwinahwi said the deaths of the politicians were losses to the entire state.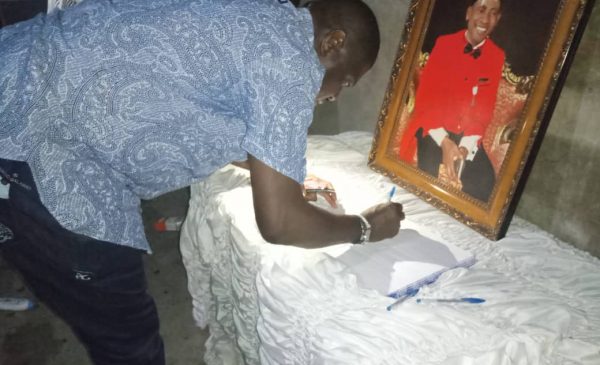 Ahwinahwi was accompanied by Hon. Jacob Tone, Barr. Monday Emuvakpor, Former Transition Committee Chairman, Ughelli South Local Government Council, Chief Mrs. Florence Ayomanor, Chief Samuel Oghotomor and many others.
Speaking in same vein at their residences in Ughelli, Ahwinahwi said the losses of the politicians were not only for the families but losses for the entire Urhobo nation and the state.
"Although they died when the state needed their services most. The trios were very good and dependable politicians. I urge the families to take heart. God gives and God takes".
Ahwinahwi said with the contributions of the politicians, it will be difficult to replace them. "I and my team are here to condole with the families. We will support the families at the point of needs and during the burials".
Members of the families of Late Chief Godspower Muemuifo and Late Chief Friday Akooyibo whom until their deaths were Senior Special Assistants to the Governor on Political Matters and Late Chief Amos Itiwhe, Executive Assistant to the Governor in their related responses expressed gratitude to the erudite lawmaker for condoling with their families at the moment of grief.
They appreciated the prompt response of Hon. Chief Solomon Ahwinahwi to the tragedy that befell their families, saying that they have been comforted by his kind words.