By Kobiruo Joseph & Michael Veloh/ FUPRE 
Deputy President of the Nigerian Senate, Senator Ovie Omo-Agege has accused the Delta state governor Dr. Ifeanyi Arthur Okowa for spending N2b monthly on people who do not contribute anything to governance in the state.
Senator Ovie Omo-Agege who represents the people of Delta Central at the National Assembly made this known while declaring his intentions to contest for the governorship position in Delta state at FUPRE, in Uvwie Local Government Area of the state.
According to him, "The time has come when you have to take the destiny in your hands and say that enough is enough and the gathering of this mammoth crowd here is a testament that we are tired of the PDP led administration in Delta state.
"Your presence here since 7a.m is an indication that we are ready to chase Okowa and the PDP away from Delta state.
"We cannot fold our hand and allow Okowa and co to continue, they will continue to marginalize us, if you go to Delta North, the Ndokwa nation made up of Ukuwani, Ndokwa West and Ndokwa East, they contribute so much to the economy of this country, of the 13 percent derivation that we receive, it is a function of their contribution to the economy of this country, but if you go to the Ndokwa nation today, nothing is on ground.
"Okowa has continued to marginalize the people of Ndokwa nation. If you go to Aniocha North, Aniocha South, Oshimili North and Oshimli South, on the back of this four local government that Okowa rode to Government House as the Anioma governor, but today these four local governments if you go to that place, you will not see Okowa government presence.
"If you go to Delta south, the Isoko Nation, they contribute just like the Ndokwa people to the economy of this country but if you go there, nothing, all you have there is a state polytechnic that was upgraded to university on paper, it is just a glorified secondary school.
"If you go to the Ijaw nation, Burutu, Bomadi, Patani and Warri South West, these are the people that produce the chunk of the wealth of this nation but if you go there today, there is nothing to show for it and Okowa actually has a deputy governor from the same place and when you enter there, you cannot spot any difference between 2022 and 2015. It time for us to stand by our Ijaw brothers and sisters that enough is enough.
Addressing the mammoth crowd on some of his achievement at the senate, Omo-Agege said, "I Ovie Omo-Agege have had so many blessings and by the blessings of the Almighty God and the grace of the people here, you sent me to the senate in 2015 and while in the senate, I represented you well, and by the grace of President Muhammad Buhari, I emerged as the Deputy Senate President, and I want to thank Mr. president for standing by us, the people of Delta Central and Delta state for our emergence for being the number two leader in the senate of the federal republic of Nigeria.
"In 2019, I came back to you again asking for your mandate that if you send me back to the senate, I will do a lot of things, I am here to report to you today that all of the promises I made to you in 2015 and 2019, I have fulfilled all of them.
"Today, because of your mandate, every village in Urhobo land, every community in Urhobo land and every city in Urhobo land all have solar power street lights, because of that mandate, every village, and community are all powered by additional transformers and, almost every primary and secondary school are all renovated and additional Health Centers.
"Because of the mandate you gave to me and the support of Mr. President, we have a brand new federal polytechnic in Delta state, and in addition to the federal polytechnic given to us, we also have the Defence Space School here in Delta Central, as if that is not enough, as we speak here today, because of the support of Mr. President, because of the support of the Senate president, and my colleagues most especially with support of Sen. Peter Nwaoboshi, we have the Campus of the Nigerian Law School made for the entire south South zone, that is also coming to Delt State.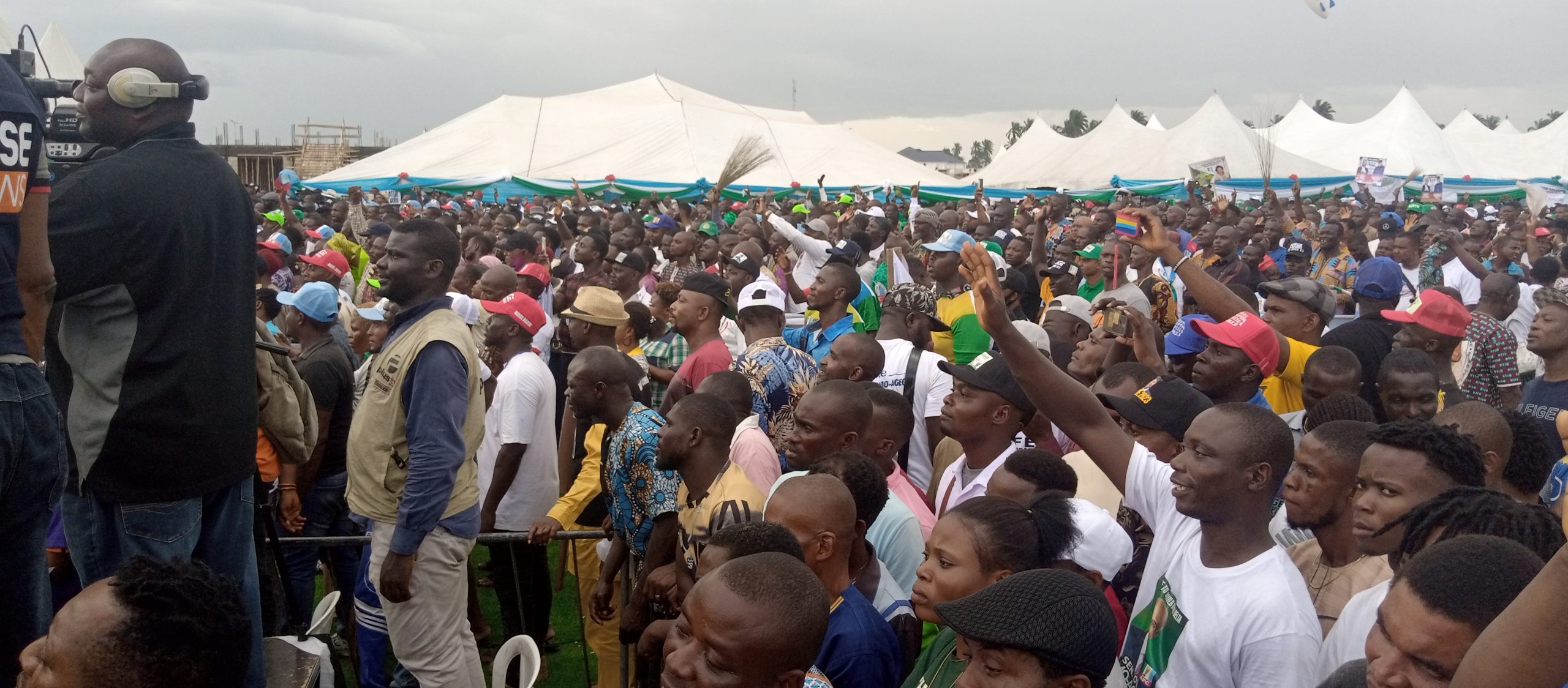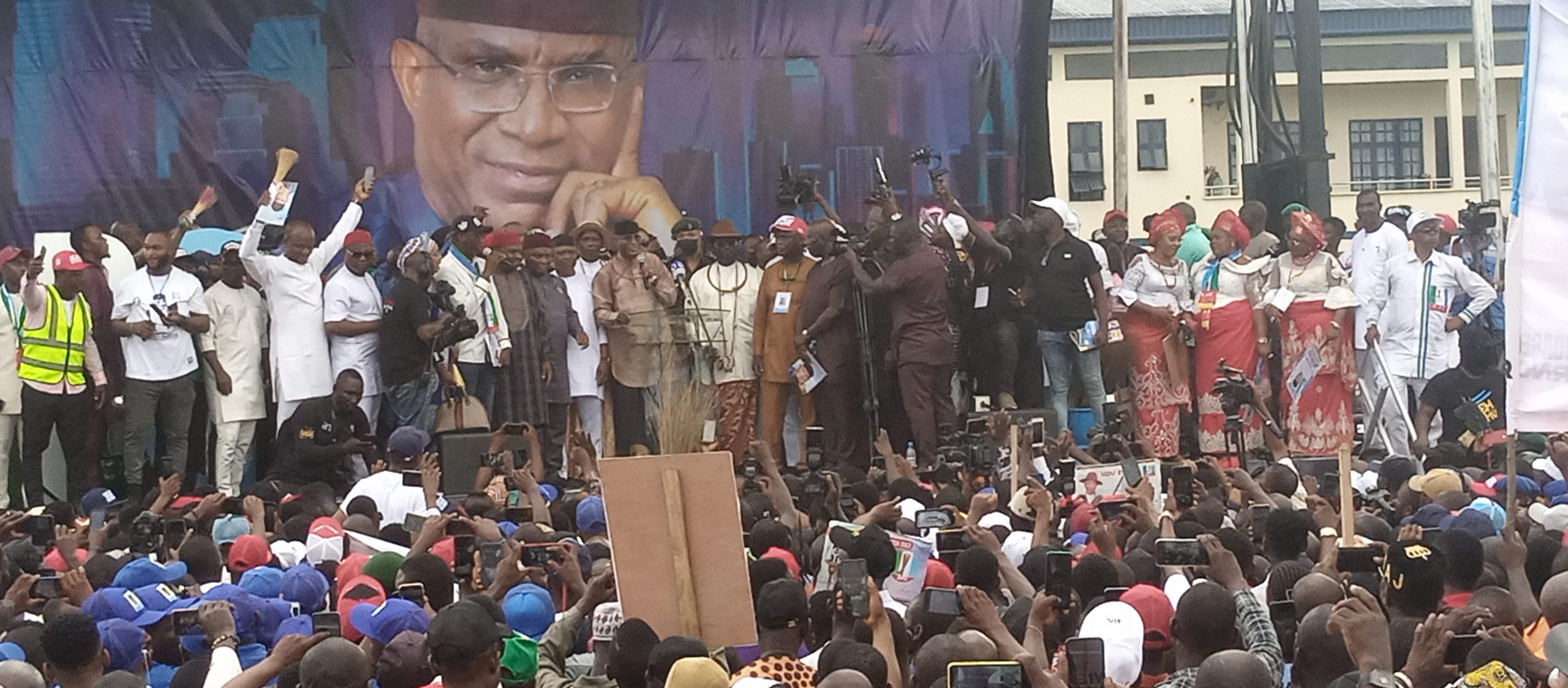 Let me now tell what we have decided to do or about to do in other areas, the biggest of which very soon you are going to here is a brand new Federal University Agriculture to be establish in Aboh, Ndokwa East local government area, in Delta North and that will be the handiwork of me Sen. Peter Nwoaboshi.
"This is what I have done for the people of Delta Central but a come in your life when you have to move away from your comfort zone, Delta central is my comfort zone.
"If I want to run for reelection for over and over again, I am confident that they will return me back to the senate. But today, I have decided to step out of my comfort zone and move to bring the same benefit to the whole of Delta state.
"This opportunity I have brought to Delta central, I want to also bring the same opportunity to the people of Delta North, and to the people of Delta south because what is good for the goose is good for the gander.
"Our youths, some them have left the university for over ten years, no job, Okowa want you people to ride Okada, Keke meanwhile those who are closest to him are ride the best cars tht scientist have made.
"Our civil servants, our parent who gave the best of their lives to the service of this state, some of them have retire 8-10 years and till today, they have not been paid their retirement benefit. He is busy employing….. Okowa spends N2b every month on these people who do not contribute anything to governance. But our civil servants, our youths who need employment are not employed.
"Therefore, today the 14th day of April 14, 2022, I senator Ovie Omo-Agege, the Obarisi of Urhobo land has offered myself as the candidate  for the office of the governor of Delta state."
Some notable chieftains of the All Progressives Congress, APC, at the rally were the Deputy Governor of Imo, Prof. Placid Njoku, his Kogi State counterpart, Dr Edward Onoja, National Vice Chairman, South-south of the party, Mr Victor Giadom,  Chief O'tega Emerhor, Senator Peter Nwanboshi, Chief Ayiri Emami, Chief Frank Ovie Kokori, Ayiri Emami, and many others