…. Says I was denied repeatedly by the Nigerian Army,
By Egufe Yafugborhi
Within a year of migrating to the United States (U S) of America, Niger Delta Voice former reporter, Perez Briside, shocked friends and family back home when he, on Thursday, realised his dream of becoming joining thr US Army.
Brisibe, known for exclusive critical crime reports in Ughelli, Delta state which he covered for Vanguard for some years, was among intakes inducted into the US Army last Thursday after rigorous training at Fort Jackson, South Carolina, one of four US Army training locations.
Sharing the ferry tale experience, Brisibe narrated, "I have always wanted to be a soldier as I admired the uniformed services. Before my admission into the university, I tried severally to no avail to join the Nigeria Army owing to what I would say is the Naija factor.
"Upon relocating to the United States, I made enquires on enlisting into the US Army to contribute my service to my new homeland. I was not only told that I met all the requirements, but would reap lots of benefits including educational and medicals.
"My training includes 2 phases namely Basic Combat Training which involves transformational change from a civilian to a soldier as well as preparing you for battle.
"The second training is called the Advanced Individual Training which trains the soldier on his/her Military Occupational Speciality. Such speciality covers all sectors of the American labour market including ICT, medical, construction, engineering etc.
"The training which was mental and physically rigorous, was honestly challenging, tasking and interesting. Having just arrived the US in less than a year, sleeping in the woods during the field training exercises in the hight of winter was one of my most challenging times.
"But being an American Soldier is something I would do over and over again."
Friends and family back home shared the joy of the day as he was inducted last Thursday, many wishing him more successes as he pursues his military career in God's own country.
He Is Editor's  Delight- Amaize
Brisibe, who worked as a reporter with Niger Delta Voice, NDV, a publication of Vanguard Newspapers covering Ughelli and environs in Delta state, for many years was known for his exclusive crime reports.
NDV Editor and Regional Editor, South-South, Emma Amaize, who was Perez Brisibe immediate boss until he left the paper said, "He is one of the best hands that I drafted into newspaper and he proved himself within a short time.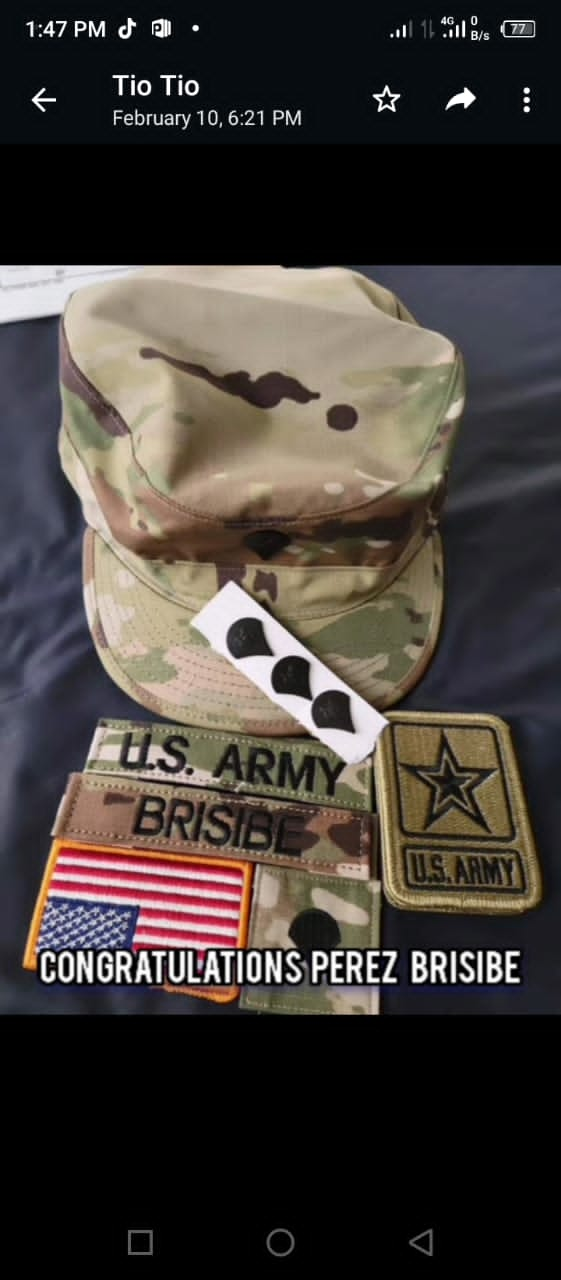 "I can tell you that he is a crack reporter; he was my best reporter in the field in tracking information about militants.  Well, I am not surprised because his father is a journalist. No doubt, he took after him, you can call him an editor's delight.
"However, the enterprising young man incubated and kept his military ambition to himself until we heard and saw the materialisation, last Thursday.
"Big hat off to him. But there is something he still owes me as his editor, the big story he did not complete before bolting to US for military training.
"Perez knows exactly what I am saying," he added.
Culled from Vanguard Newspaper of February 16, 2022, page 35. Except Headline Cast