By Uruemu Favour,
CHIEF Prosper Iwoma Edo has been installed as the 'Oletu Ekpa' a traditional stool embedded with the Abame Festival and other cultural activities and traditional celebration of Igbide kingdom in Isoko South Local Government Area of Delta state.
Edo was installed according to the demands and customs of the people at the palace of the Odiologbo of Igbide, Chief Godspower Okpohro who was the former 'Oletu Ekpa, elevated to the position of  Odiologbo of Igbide kingdom.
Chief Godspower Okpohro ascended the stool of Odiologbo after the death and the conclusion of the final traditional burial rites of the former Odiologbo of Igbide Kingdom, late Chief Edigwe Oduawor.
According to Chief Godspower Okpohro, "I have become the Odiologbo and cannot hold two positions after the traditional burial rites of the former late Odiologbo, and that is why i have to call on the entire Okpohro community in Igbide to hand over the 'Oletu Ekpa' position in the presence of the public.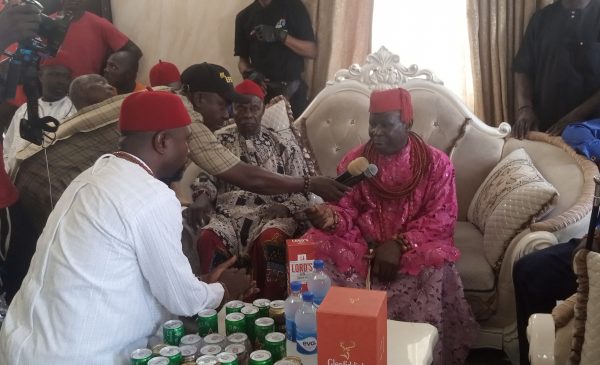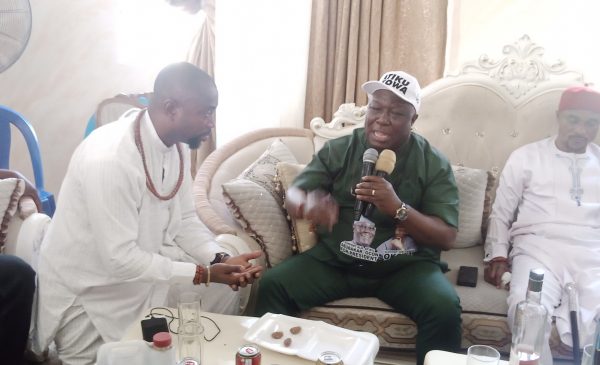 "As you all aware, the position of 'Oletu Ekpa' is for Okpohro in Igbide kingdom and since i have been elevated to the position of Odiologbo, it behoves on me to hand over the position.
"Chief Prosper Iwoma Edo was nominated and returned unopposed by the entire Okpohro community and it is my primary duties to relinguish the 'Oletu Ekpa' tittle to him.
Speaking after his traditional installation, Chief Prosper Edo said, "I feel very privileged because this is a call to service and as a man who is very interested and vast with the customs and traditions of Igbide, i will do my best to ensure the development of kingdom.
He said,"The Oletu Ekpa position can only be occupied by male descendant from Okpohro and Egbo communities in Igbide and i was chosen by my people.
During the installation ceremony, the Odiologbo, Chief Godspower Okpohro admonished me to perform better than him and as a young man, i will do better than the previous persons that have occupied this exotic position, with special recognition to late Chief V.O Edo who was pioneer Oletu Ekpa of Igbide.
"Having being into different leadership positions in the community, my wealth of experience, and knowledge in the culture and traditions of Igbide people, i am very confident that i will handle this position very well and do better.
"The title of 'Oletu Ekpa' of Igbide has nothing to do with fetish things but purely made to uphold and recognize our customs and traditions which is lay down by our forefathers.
"With this position, the interest of my people and Igbide at large will be my primary focus and i am appealing to my people to be peace to attract more development to our community."