Popularly referred to as Nollywood, the Nigerian movie industry being the third most valuable film industry in the world, had a big cinema outing in 2017; both in Nigeria and internationally, with movies grossing millions of naira in the box office.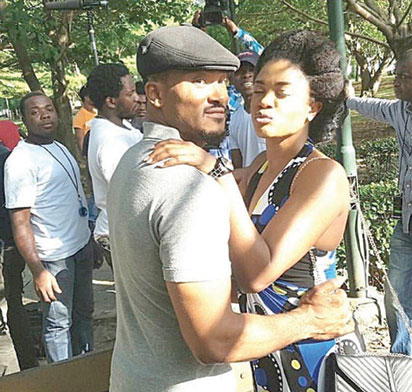 With considerably bigger film production budgets, improved quality, more subtle performances from actors, here are some movies that rocked the cinemas in 2017.
Okafor's Law
Written, produced and directed by Omoni Oboli, 'Okafor's Law' tells the story  of a character, Chucks (Blossom Chukwujekwu)  nicknamed  'The Terminator' by his friends; a professional philanderer whose desire to prove a relationship point to his friends brings him three women he must re-seduce within twenty one days; Ify (Ufuoma McDermott), Tomi and Ejiro  (Omoni Oboli)  whose lives have drastically changed.
This intrusion on their new lives makes his quest to prove the immortality of the age long law more difficult. 'Okafor's Law' first premiered at the Toronto International Film Festival (Tiff) in September 2016 and later premiered in Nigeria also in April 2017. Garnering  N90million in the Box Office, 'Okafor's Law' featured Blossom Chukwujekwu, Gabriel Afolayan, Toyin Abraham, Ken Erics, Mary Lazarus, Yvonne Jegede, Halima Abubakar and Omoni Oboli.
Alakada Reloaded
'Alakada Reloaded', the third installment of the Toyin Abraham's "Alakada" series, which was first released in 2009, while the second in 2013, grossed a whooping N25million  within three days  after its ground-breaking cinema debut.
Produced by Toyin Abraham and released in May 2017, the movie featured a star-studded cast including Toyin Abraham, Ali Baba, Odunlade Adekola, Kehinde Bankole, Woli Arole, Nedu of Wazobia FM, Helen Paul, Lilian Esoro, Annie Idibia, Bidemi Kosoko, Liz Da Silva, Lala Akindoju, Mr. Latin, Iyabo Ojo, Gabriel Afolayan amongst others.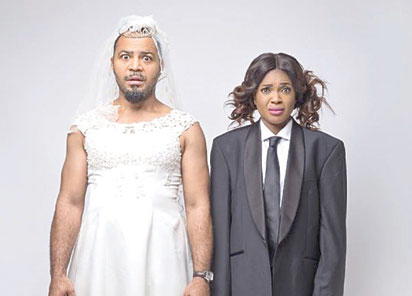 Isoken
'Isoken' is a romantic comedy written and directed by Jadesola Osiberu, featuring Dakore Akande, Joseph Benjamin and Marc Rhys.
The story revolves around Isoken who appears to have a perfect life but is still single at 34, which in a culture obsessed with marriage is serious cause for concern.
Things come to a head at her younger sister's wedding when her overbearing mother thrusts her into an orchestrated matchmaking with the ultimate Edo man, Osaze. But in an unexpected turn of events, Isoken meets Kevin who she fell in love with and he just might be what she truly wants in a partner.
The only problem is, not only is he not an Edo man, he is a Caucasian. Released in June 2017, 'Isoken' hit  N55million at the box office and broke UK's Box Office as it beat any African romantic comedy which has over the years been released in the UK Cinemas.
10 days in Sun City
The third installment of the hilarious Akpos Franchise, following Trip to Jamaica and 30 Days in Atlanta which sits at the number two and three spot respectively of the highest grossing movie in the box office. 10days in Sun City premiered on August 10 in Sun City, South Africa.  The movie is a feature-length comedy drama that chronicles Akpos (Ayo Makun) on another adventure, this time, to Sun City in South Africa, with his girlfriend Bianca (Adesua Etomi). Bianca wins the queen of Nigeria crown and becomes the face of OTAWI conglomerate which is owned by Nigeria's richest man, Otunba Ayoola Williams, aka 'The Old Fox' (Richard Mofe Damijo).
Hakkunde
'Hakkunde' is an intriguing story of a long-term unemployed graduate; Akande, who after prolonged joblessness relocates to Kaduna from Lagos when an opportunity presents itself. His expectation is however cut short and Akande must make a decision to either learn to survive in a faraway land or return back to failure. Directed by Asurf Oluseyi as his debut feature film 'Hakkunde' featured Toyin Abraham, Frank Donga, Rahama Sadau, Ali Nuhu and comedian Seyi Law. Shortly after its release in August 'Hakkunde' won the award of merit from IndieFEST.
Alter Ego
'Alter Ego', a film by Moses Inwang saw the major comeback of star actress Omotola Jalade Ekeinde who played the role of Ada. The story centers on Ada Igwe, a successful lawyer by day and nymphomania by night. Ada is hell-bent on ensuring that perpetrators of sexual assault against women end up atoning for their sins whether by means of imprisonment or public disgrace.
As the story progresses, Ada finally meets a billionaire philanthropist who she likes and begins to dial back on her escapades, only to find out that her lover was also a sexual assaulter. Also, Ada was molested as a child and that experience shaped the rest of her life. The movie which opened in the cinemas on the 21st  of July featured Wale Ojo, Kunle Remi, Emem Inwang and Esther Eyibio.
Banana Island Ghost
Starring  Chioma 'Chigul' Omeruah,  Patrick Diabuah, Adetomiwa Edun, Saidi Balogun, Ali Nuhu, Uche Jombo, Bimbo Manuel, Akah Nnani, Damilola Adegbite, Kemi Lala Akindoju, Dorcas Sola Fapson, DJ Obi, Uche Nwaefuna, Abimbola Ademoye, produced by Omorinsojo Spaine and written/directed by BB Sasore, 'Banana Island Ghost' broke record as it made  N35million in its opening week in the Nigerian box office.
Released in August, 'BIG' is centered on a ghost that is scared to go to heaven because he doesn't have a soul mate, so he convinces God to give him three days to fall in love. He is paired with the cantankerous firecracker Ijeoma (chigul) who will do anything to save her father's house in Banana Island from the bank coming to reclaim it  in three days. The two of them must first survive each other, learn to work together, and eventually fall in love, to see their destinies unfold.
My Wife and I
'My wife and I' as directed by Bunmi Ajakaiye debuted in cinemas around the country in August 2017. It tells the story of Toyosi (Ramsey Nouah) and Ebere (Omoni Oboli) an unhappy couple on the brink of divorce but decide to give their marriage one last chance. After visiting a famous Pastor (Seyi Law), they somehow woke up in each other's bodies. Is it a miracle or a curse? Unable to switch back, they are forced to masquerade as each other until a solution can be found. They couldn't save their marriage as themselves; can they save it as each other? Featuring Omoni Oboli, Ramsey Nouah, Jemima Osunde, Dorcas Shola Fapson, Seyi Law amongst others, 'My Wife and I' grossed  N25million in its opening week.
Omugwo
This movie by Ace film maker, Kunle Afolayan had a successful outing both in the cinema and box office, as it made  N45million.  Starring  Ken Erics, Omowunmi Dada, Ayo Adesanya and Patience Ozokwor,  'Omugwo', tells the story of Omotunde, a young civil engineer and her husband, Raymond an OAP, who just had their first child and their mothers move in for the Igbo culture child care rite called Omugwo. It was released on the 7th  of April.
The wedding party2
Sequel to the success of 'The wedding party' which still occupies the spot of the highest grossing movie in the Nigerian box office with  N450million,  the much anticipated 'The Wedding Party 2' has been released and is now showing in cinemas across the Country.
The blockbuster movie opened in the cinemas on the 15th  of December and made over  N73million on its opening weekend, breaking the  N36million record of the first part of the movie on its opening weekend in 2016. The movie featured some fresh faces like Seyi Law, Chigul and Wofai Fada in addition to its old cast, Adesua Etomi, Banky W, Sola Sobowale, Ali Baba, Richard Mofe Damijo, Ireti Doyle and others. Focus was also shifted to the groom's brother Nonso, played by Enyinna Nwigwe who accidentally proposed to Deardre, setting off a chain of intriguing events in a tone that showed that love truly is a universal language that breaks through cultural barriers.
Wives on strike: The Revolution
Film Connoisseur, Omoni Oboli returns to the cinemas with 'Wives on Strike: The Revolution', following the success of 'Wives on Strike' which closed in the sum ofN60million in the Nigerian box office in 2016.
With a stellar cast such as Omoni Oboli, Ufuoma McDermott, Uche Jombo, Toyin Abraham, Sola Sobowale, Chioma Akpotha, Julius Agwu, Odunlade Adekola, Kenneth Okonkwo and more, Wives on Strike: The Revolution follows the story of market women fighting against domestic violence after one of them was beaten to death by her husband. This leads to yet another strike by the women against their husbands forcing their hands to stand up for what is right. Released on December 29, Wives on Strike is written, directed and produced by Omoni Oboli.
The post Movies that ruled the cinemas in 2017 appeared first on Vanguard News.