No fewer than 13 people were killed when a 6.5-magnitude earthquake struck Sichuan, southwestern China, authorities said Wednesday.
But the toll was expected to climb as news trickles out of the remote mountainous region.
Aftershocks shuddered across the quake-prone province of Sichuan, adding to the anxiety of victims, with the most powerful reaching a magnitude of 4.8 on Wednesday.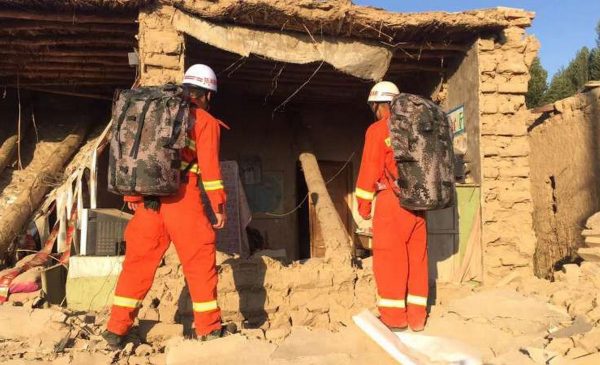 Images emerging from the quake zone showed cars and buses tossed into ravines or smashed by giant boulders apparently jolted loose from surrounding hills, while uniformed paramilitary police with shovels were pictured digging through rubble for victims.
The earthquake hit late Tuesday, killing 13 and injuring 175, 28 of them seriously, according to a statement by the government of Aba prefecture, where the epicentre was located.
Aid organisations warned that it will take time before a clear picture of the scale of the disaster comes into focus due to the area's difficulty geography.
China's National Commission for Disaster Reduction estimated that as many as 100 people may have perished, based on past census data of the sparsely populated region, and that tens of thousands of homes may have been damaged.
Pictures circulating on social media showed stunned people milling about on debris-strewn streets, fearful of going back inside as more than 1,000 aftershocks were detected, according to China's official earthquake monitoring agency.
Yet another sparsely-populated part of China was rocked by a strong quake Wednesday morning.
The 6.3-magnitude tremor shook northwestern Xinjiang region, more than 2,000 kilometres (1,200 miles) from Sichuan, according to the USGS, and was followed by local aftershocks of 5.2 and 5.3 magnitude.
At least three people there were injured when their home collapsed, official Xinhua news agency said, adding that the initial Xinjiang quake was felt as far away as the regional capital Urumqi more than 200 kilometres to the east.
The Sichuan quake was centred near Jiuzhaigou, a picturesque valley region designated as a national park and UNESCO World Heritage Site and which is famed for its striking scenery, karst rock formations, waterfalls and lakes.
Xinhua said at least five of the deaths occurred in Jiuzhaigou, adding that more than 34,000 people were visiting the popular tourist area at the time and that 31,500 tourists had been moved to safety.
Tuesday's quake evoked memories of a massive 8.0-magnitude earthquake that devastated wide areas of the same region in 2008, leaving 87,000 people dead or missing in what was China's worst seismic disaster in a generation.
The 2008 quake set off deadly landslides, obliterating towns and damning rivers, creating menacing "quake lakes" that required the evacuation of thousands downstream as the army worked to clear the blockages.
President Xi Jinping called for "all-out efforts to rapidly organise relief work and rescue the injured" in Tuesday's quake, according to Xinhua.
AFP