Joe Favour/Ughelli
A group under the aegis of "Delta Teachers in Politics", DTP has inaugurated it's 33-man state executive under the leadership of Comr Andrew Darah with a charged to work harmoniously to ensure the welfare of teachers is protected in the political pendulum.
Also inaugurated are the local governments executives for grassroot mobilization of teachers on voters education.
Speaking during the inauguration held at Teachers House in Ughelli North Local Government, the state Coordinator, Andrew Darah said, "It is with great honour and a privilege to put together this event which shall mark the birth of a socio-political group of the teaching profession known as Delta Teachers in Politics (DTP).
"It should be recall that since 8th July 1931 when the  Nigeria Union of Teachers (NUT) was formed at CMS Grammar School, Lagos. The major objective has been to protect teacher's rights, oppose measures that are inimical to their interest.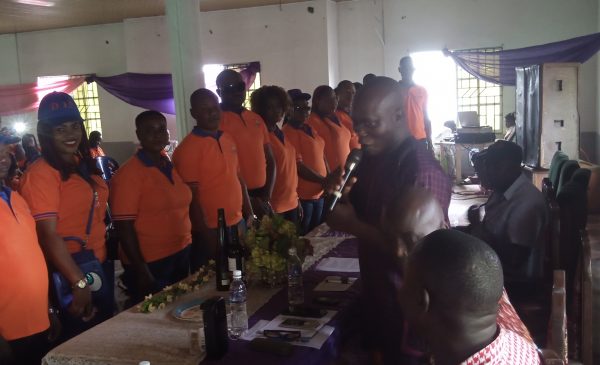 "The NUT today is therefore a symbol of professionalism and Delta Teachers in Politics is a socio-political association formed by teachers in Delta Stat as it cuts across all strata of educational institutions in the state with special reference to teachers in the Primary and Post Primary Educational Institutions.
"Members of this group are teachers who have duly registered under the Teachers Registration Council of Nigeria (TRCN).
According to Darah, "This association empowered by the provisions of the Constitution of Federal Republic of Nigeria 1999 (as amended). By section 40 of the Constitution, it is stated unequivocally thus: "Every person shall be entitled to assemble freely and associate with other persons, and in particular he may form or belong to any political party, trade union or any other association for the protection of his interest".
"This is not a political party neither is it a trade union. It is the other association which the Constitution contemplated and It is not affiliated to any political party.
" It is sponsored by individuals from the group directed at building the bridge across the teachers in Delta state employ for a better welfare, training and general awareness campaign.
"While we will appreciate and welcome free will donation, the only source of finance and donations are solely from  members of the group.
"I want to use this opportunity to thank everyone of you for been part of this epoch making event. My sincere appreciations goes to the indefatigable State Chairman of the NUT Comrade Titus Okotie and NUT chairman Ughelli North Local Government Area of Delta State and indeed all the NUT chairmen of various Local Government Areas of Delta state."
Highlight of the event was the official inauguration of DTP state and  local governments executives by the Ughelli North chairman of the Nigeria Union of Teacher, NUT, Mr. Austine Ovuevuraye.