By Kobiruo Joseph/Michael Veloh
The presidential candidate of the All Progressives Congress, APC, Bola Ahmed Tinubu, Sen Ovie Omo-Agege and former Edo state governor, Adams Oshiomole have taken swipe at, Alhaji Atiku for fighting his Boss while he was the vice president of Nigeria without thinking of governance.
Tinubu made this revelation at the Warri township stadium in Delta state during the the presidential rally and  governorship flag off campaign in the state.
This is just as former Edo state governor and national chairman of the APC, Comrade Adams Oshiomole described the presidential candidate of the PDP, Atiku Abubakar as an ethnic jingoist that could not be trusted.
According Bola Ahmed Tinubu, "Our rivals are shameless, they fight themselves in the public, how can they think of governance.
"When Atiku was there he fought his boss in the public. They were telling us how they spent PDF money to buy cars for their friends. Do they have shame?, will you vote them again?
"Your coming here shows the determination that you want a change and when Ovie Omo-Agege become the governor and me as the president, we develop the ports, bring development back.
For 23-years now what have you seen? Warri is going down, they do not know the way, they do not have the vision, they don't have the brain, the mission and knowledge but we know the way.
"Election after election they lie to you, give you excuses, borrow money and celebrate market stores.
"I will commit to your progress and fulfill all the promises made to you because you are the heart and soul of Nigeria, your environment is as important as gold mining, your health, welfare and dream will be realized." Tinubu revealed.
Oshiomole while taking a swipe at Atiku and Okowa said, Atiku is an ethnic jingoist who cannot be trusted
In Kaduna state, Atiku said that it is not good for Nigerians should not vote for an Ibo man and Okowa is from Delta Ibo and what makes Atiku good to be president?
"Atiku also stated that Nigerians should not vote a Yoruba person to be their president and if he had mention Peter Obi or Ahmed Tinubu it would have been better but to attack a race, it shows that he is an ethnic jingoist.
On Okowa, Oshiomole revealed that
Delta state government has received over N250b from president Muhammadu Buhari, he collected over N60B for refund from federal roads, N10b to pay salary arrears, and N10b to pay workers pension and yet pensioners and our women are crying.He should tell Deltans what he  has he done with the money.
"Governor Okowa presided over the meeting of the South South Governors in Asaba, they came together irrespective of political parties and agreed that Nigeria president should come from the south in 2023, but he betrayed them and accepts to be duplicate vice president instead of presidency from the south.
"If a man cannot stand on his word, and if there is no character, if your word is not your bond, what qualifies you to preside over Nigeria? Oshiomole questioned.
"Omo-Agege will be a better governor and after he has won, I will release a new dancing step."
"I am following Asiwaju because i have to look at his yesterday to be able to have a window to your tomorrow and he is the right person to be the next president and not an ethnic jingoist."
On his part and aspirations, gubernatorial candidate of the APC, Sen. Ovie Omo-Agege said, Delta state is a hospitable state that do not tolerate traitors, we do not like treachery and traitors.
"Here in Delta state, we are in a very serious disrupt, Delta state ought to be among the richest states in Nigeria and the richest in Niger Delta region but despite all our endowment, receipt by from Federation Account, FACC, 13 percent derivation, and by way of our internally generated revenue, there is nothing on ground that is commensurate with the receives from the federal government.
"Our people are tired of suffering in the midst of plenty and this part of the state is where the wealth of this country is generated and if you go to these areas, you will not seeing anything.
"Our people are very angry and they want the narrative to be change because instead of development to come to them, what they hear everyday is more loans.
"As at today, Delta state is the second most indebted state in the entire federal republic of Nigeria and all Deltans both the unborn are all indebted because of Okowa' recklessness.
"The people want to change the narratives and that is why i Ovie Omo-Agege, the deputy president of the senate formally put myself forward as the candidate for governor in Delta state in 2023.
"In putting myself forward, i do so because i have the experience, having serve in this state as the Executive Assistant to the governor, as a Commissioner and member of the executive, as a Secretary to the state government, and as a senator representing Delta Central and currently serving as the Deputy Senate President, have decided that having put together all the experiences gather over the years to the service of our people.
"Our people known me, I am a known quantity in Delta state and in my service 8 years in the senate, if you go round all the Delta central and beyond, there is no village, community and town were my impact is not felt."
Present at the Presidential rally and Governorship campaign are, Governor Hope Uzodinma of Imo state, Gov Simon Lalong of Plateau state, Senate President Ahmed Lawan, former Speaker House of Reps, Dimeji Bankole, Sen Godswill Akpabio, David Lyon, Olorogun O'tega Emerhor, Sen Oluremi Tinubu, Sen Kashimu Shettima and his wife.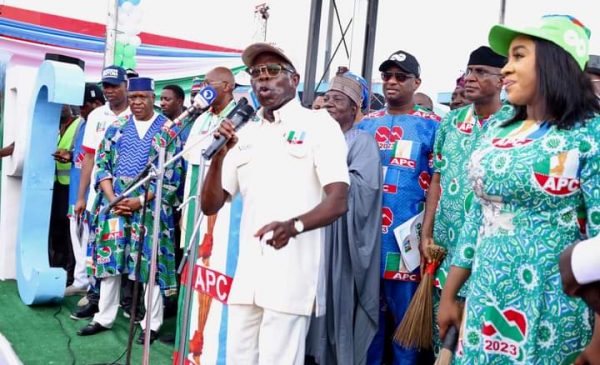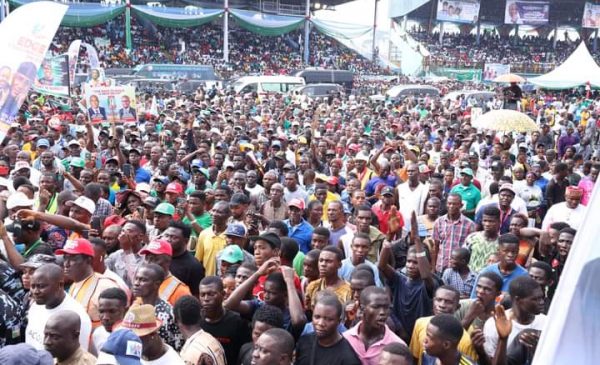 Other are; APC Delta State chairman, Elder Omeni Sobotie, the Director-General of the Delta State Campaign Organization, Elder Godsday Orubebe, Dr. Alex Ideh, Delta South Senatorial candidate, Joel-Onowakpo Thomas, Delta Central Senatorial candidate, Ede Dafinone amongst others.